Well maybe not exactly. If I had half the talent I'm sure a Pontiac GTO, a Lolita, and a white-hot playwright could somehow make for a wickedly clever headline. Regardless, this weekend the big news in Bay Area theater is that Trevor Allen's new play Lolita Roadtrip — a project some three years in the works — is opening on Saturday night at The Stage in downtown San Jose. Early word from the previews is that it's hot; just like the car you see here.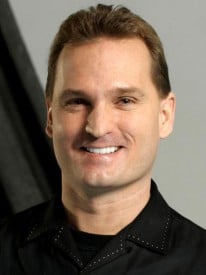 Heads-up. This is the playwright that floored us at the little Black Box a few years back in San Francisco. The Creature (5 stars), a fascinating spin on Frankenstein starring James Carpenter, one of my favorite stage actors (and that bellowing voice!), put Allen on my radar with a massive exclamation point.
Roadtrip and Butterflies
In 2008 while working up in the Santa Cruz Mountains for the first time as a full-time playwright Allen read an article about Nabokov (yes Sharks fans there is more than one) and his passion for butterfly collecting, and was struck by an item concerning a trip he and his family had made out to California in 1941. He had an epiphany.
Although the early drafts were filed away in a drawer, a butterfly — Cyllópsis Pertepída Dorothéa — kept flirting with his imagination. It wasn't until he re-read Nabokov's book that he fully realized that here was something brilliant, comic, and tragic. Several drafts and a few staged readings later, Lolita Roadtrip has found a home, and is ready for the world.
Pontiac GTO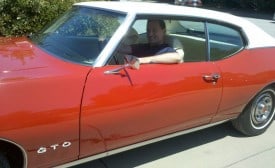 The fire-engine 1969 GTO featured in these clever promo stills is actually owned by Trevor's mother-in-law, the original owner. Wouldn't it be something if it made an appearance at The Stage? I won't say for sure what you'll see there – that's part of the magic, the surprise of live theater.
Trevor tells me via Facebook: "I even got to drive it… for a block, when we had to turn it around. It's a sweet car. Too bad it's an 8 banger and gas is over four bucks a gallon… otherwise, I would love to go for a roadtrip in that beast."
More on Trevor Allen and Theater:
"Writing…" on a Droid
Like a lot of the next generation of rising theater talent, Trevor Allen is a man committed to social networking, and his ever-present smartphone, Droid. One of his favorite status updates: "Writing…" Turns out he even writes on his Droid – not just a word or two, complete scenes! When inspiration strikes, be it in the park, walking the beach, or strolling downtown San Jose, you've got to capture the moment.
Amazingly, he's on some kind of creative mission that can only described as an Epic mix of imagination and brawn. In addition to Lolita, he is working on Valley of the Sand, a work commissioned by the San Jose Rep, workshopping Zoo Logic at Aurora in Berkeley. And then there's his book project Working for the Mouse (hint: check Facebook for the updates on this Disney lampoon). Karen D'Souza, theater critic for the SJ Merc, recently wrote a feature on him which you can read here: playwright on a roll.
Yet even with all that quality output, he still finds time to get out to many openings around town. Chances are, on any given night I'll run into him and his wife Karen at Berkeley Rep, A.C.T., Marin Theatre, SJ Stage… you name it, he's on the scene and just as eager to talk about his Android phone as he is the stage. When it comes to his work he's very modest. But sometimes you just have to hop into a muscle car, drop the pedal to the metal, and see where life takes you.
"I'm living my life, what are you doing?" – Danny, Lolita Roadtrip.
Lolita Roadtrip

By Trevor Allen

The Stage, San Jose
Directed by Lee Sankowich

Opens: Saturday, April 9 – runs through May 1, 2011

This darkly comic play follows Julia (a rebellious Stanford graduate student researching her thesis) and Danny (a hitchhiking teenaged runaway she picks up) as together they retrace novelist and lepidopterist Vladimir Nabokov's actual 1941 roadtrip from New York to Stanford. A series of cross country adventures ensues, as they confront their own dark pasts and discover what really causes a chrysalis to transform into a butterfly. Lolita Roadtrip was commissioned and developed by PlayGround, Jim Kleinmann, Artistic Director.