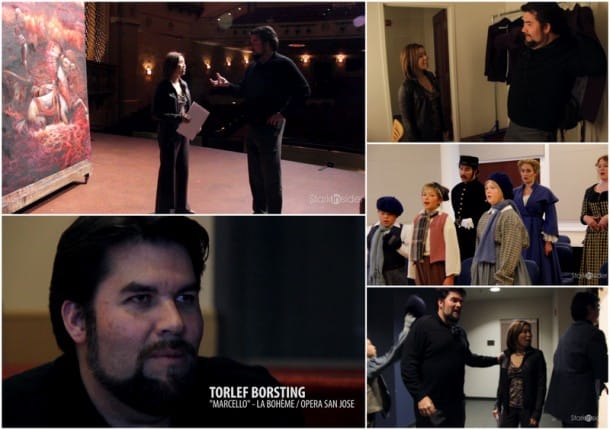 Indeed, long live the Bohemian life! So then, what exactly does Opera San Jose and the Trailer Park Boys have in common?
It might be just a bit of a leap from 19th century Paris to the misadventures of the boys up in Nova Scotia, but darn it if I wasn't going to try some how, some way to make the connection to the mockumentary. Yes, it's "base" as baritone Torlef Borsting calls it (and "awesome") in yet another revealing backstage interview, but then again OSJ has a bit of a rock 'n roll reputation to uphold – well, at least behind the scenes anyways (proof point #2: Life as a Diva: Jouvanca Jean-Baptiste of Opera San Jose). As Torlef says during the Stark 3s, "I actually don't swear much, but I love watching other people swear." Just another reminder that this interview is probably not the kind you'll see in your favorite classical digest.
Find out why that raunchy television show gets mentioned and discover behind-the-scenes drama as we follow Torlef — a would-be young Parisian painter, and fan of the "Arnold Palmer" — from his dressing room and back halls of the stunning California Theatre to the chrous room rehearsals and on to the set of La bohème, OSJ's latest, lavish (except for the rubber chicken) production.
Torlef  joined the OSJ resident company last year. He has appeared as Alexei Vronsky (Anna Karenina), Scarpia (Tosca), Dr. Bartolo (The Barber of Seville), and now as the aforementioned love-struck painter, Marcello (La bohème).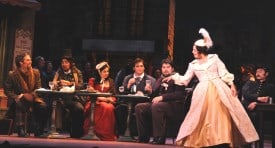 Insider his dressing room, Torlef shows off a custom fit suit jacket built specifically for him by a tailor in San Jose. The baritone who admittedly likes to say "Yah-Yah" talks about his voice, and life under the spot-light. "As a singer I get to stand up in front. Everybody pays attention to me. A big light on me. Who knew that I'd like that? "I didn't know!" he says with a smile. "If you pay attention to Torlef, good things happen!"
Astute viewers and fans of Bay Area theater should be able to recognize the esteemed director Timothy Near and Michael Butler (artistic director, Center Rep Theatre) who make brief cameos.
Stark Insider TV – Opera San Jose Backstage: La bohème
Let the show begin…