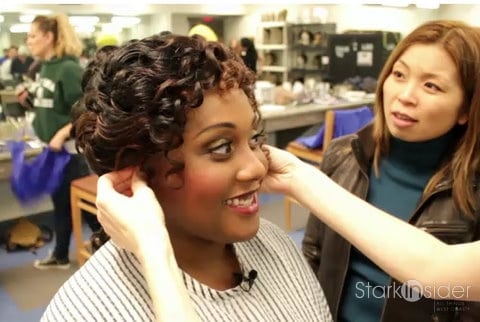 The Rolling Stones and Manchester United are an essential part of the conversation with Opera San Jose's rising star, Jouvanca Jean-Baptiste. So is Guinness beer, another favorite Facebook topic. On her way to rehearsal at the California Theatre in San Jose, the Stones' are blaring, "I can't get no satisfaction!" Maybe the self-described "Haitian Diva" should also be known as the "Rock 'N Roll Diva."
Regarding the Haitian born singer's desire to land the juicy lead roles: "I go big," she says with a laugh. "I go big, or nothing."
In this Stark Insider episode, we go behind-the-scenes and get a rare, close-up look at "Life as a Diva" – Follow Jouvanca from her OSJ residence in San Jose, across the rain-soaked streets on the way to the California Theatre (where — shock! — the diva does not have a reserved parking space…), and through backstage halls including stops in makeup and wardrobe as she gets ready for opening night.
"I really enjoy delving into… why does a character do what do they do?" she tells Loni Kao. "I love to read a lot, and I think with Opera I get to delve into a character over and over and discover new things about it every time I look at it."
This Saturday, OSJ's latest production, Puccini's La Bohème, opens and we'll once again get a chance to experience Jouvanca's increasing star appeal. She will share the lead role (Jouvanca performs 4/24, 4/30, 5/6, 5/8) of Mimi with fellow soprano Jasmina Halimic (4/23, 4/28, 5/1, 5/3), who was last seen also sharing the lead in Anna Karenina.
With Clinton Stark contributing from San Jose.