Cinequest opened last night with a bang- and a musical number or two from the streets of Naples. Downtown was hopping (the Sharks were also doing their thing over at the tank, notching their seventh win in a row) and there was that extra special feeling that the film festival brings every year to San Jose. Mayor Chuck Reed had one of my favorite lines of the evening when he implored the standing only room crowd at the California Theatre to "leave town broke". With some 85,000 attendees expected for the 21st edition of the increasingly respected film festival, the potential boost to tourism is a welcome benefit to downtown businesses.
Another great line came from Martin 'Marty' Cooper, the legendary innovator of the cell phone. Before the screening of John Turturro's love poem to Naples Passione, he pulled out one of those early, massive 80's cell phones and showed it to the audience. It weighed two-and-a-half pounds. Battery life was only twenty minutes. "But it didn't matter," he said. "No one could hold the phone that long."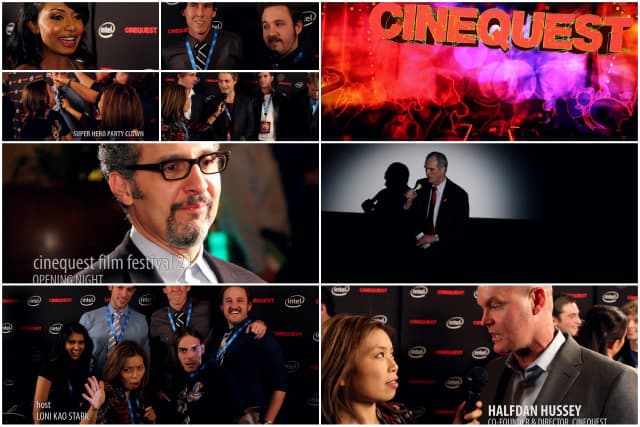 The mood very much suited the festival which is held here in the heart of Silicon Valley and counts tech giants such as HP, Adobe and Intel as sponsors. CQ itself is know for innovation. Over the next twelve days, the city will be treated to big screen gems sequestered from around the globe. Plus, once again, the schedule is filled with plenty of envelope-pushing sessions including filmmaking with Jacob Rosenberg, Focus on 3D and sales and distribution. Organizers use the word "spectacular" a lot in the promotional materials, and I'd suggest the choice of adjective is pretty much on the mark.
Once again we were there on the Maverick-filled red carpet to take in the scene and catch up with some of the cast, crew and CQ staff. Although the festival continued to grow during the economic slowdown, it was hard not to notice an extra tick of energy this year. There just felt like more was happening–more cameras, more stars, more fans. And- general rambunctiousness with a nice dollop of organized chaos.
So here's the action from opening night. In this video, we catch up with Cinequest co-founder Halfdan Hussey, the fun cast of Super Hero Party Clown (and, yes, Loni had to chew on that one a few times), the stunning Kalista Zackhariyas who stars in the watery nightmare Snow, and, also Joseph Sims, the Australian director of Bad Behaviour – he knows a thing or two about psychopathic siblings.
Note to self: always clean lens… especially after a shoot in the rain!
WATCH: Cinequest Opening Night