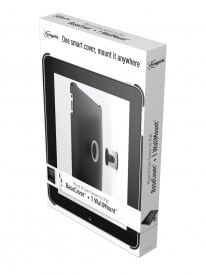 (Ed- a rep from Vogel's has indicated that the holder (BaseCover) can be removed the back and attached to the front to protect the display/front during transport.)
How versatile is the Apple iPad? Check out Vogel's new mount and cover system for a quick reminder of the number of applications that suit this incredible tablet. Mount it in your car and use it as an entertainment system for the kids. Hang it on the wall and use it for whole house audio control, smarthome applications, and for browsing recipes in the kitchen. Or, do what the majority of us are probably doing: relaxing on the couch and dialing up our favorite movies or connecting with friends on Facebook.
That's all great of course. However, buying separate iPad accessories, and cases can be a bit of a pain. Along comes Vogel's clever mount and cover system for iPad.
They sent us an "All-in-One Pack" review unit with the entire kit and kaboodle: an iPad BaseCover, WallMount, TableStand, and CarMount. For $119 US it's a little pricey.
Is it worth it? Read on for my take.
Build Quality
Solid! That was my first reaction when I first unpacked the review unit. I don't think anyone will mistake Vogel's for chintzy build quality. The CarMount is made of thick plastics and looks like it can withstand years of off-roading while the kids watch SpongeBob and paint digital pictures. Likewise with the WallMount. The TableStand is the lesser constructed of the three. However, its lightweight design makes for an easy-to-pack accessory and it can easily support the pound and a half or so weight of the iPad.
BaseCover (Holder)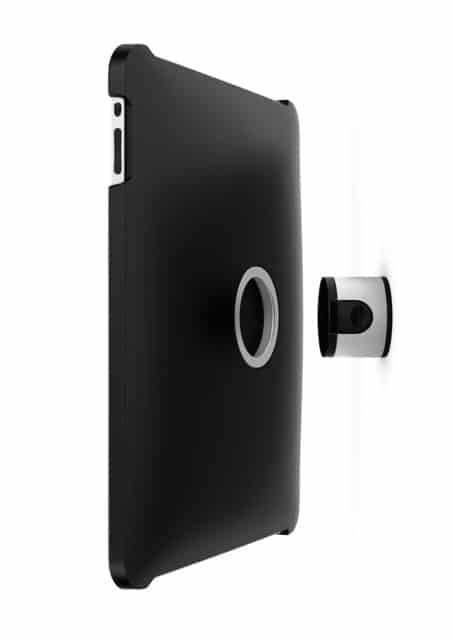 This is the cover for the iPad. It's made of smooth plastic that envelopes the iPad snuggly. There is no protection for the display, so if that's important you'll need to find another solution. However, what makes this cover unique is the small ring connector located on the rear. It's analogous to a quick release plate, the kind you might use with a tripod and a camera for example.
With the small round "RingO" (an aluminum receptor) inserted into this connector, you can then quickly connect your iPad into other compatible mounts with a simple click. It's clever. The result is a highly flexible system. For someone that wants to use their iPad in multiple locations, the BaseCover with RingO mount allows you to easily move from car, to home, to couch with minimal fuss.
CarMount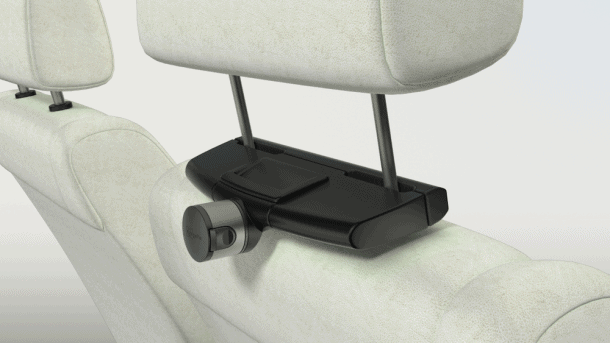 Slam dunk on this one. Clunky television systems for the car, be gone. Vogel's CarMount once again uses the BaseCover and clicks onto the rear of the iPad using the aforementioned aluminum receptor. The mount itself sits underneath the headrest (no tools are required). The result is a simple solution with no hard-wiring or expensive installation required. I suggest anyone considering on-the-go mobile entertainment for passengers take a look at this option.
WallMount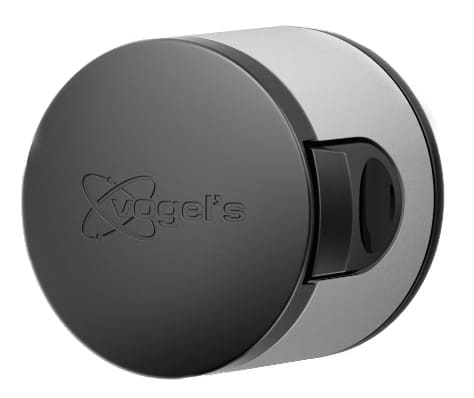 The iPad is good as so many things, and one of them is controlling various systems in the home such as audio, video and music. With 65,000 apps there is assuredly something for just about any application you can imagine. What I like about Vogel's solution is again the simplicity. Simply screw the included "button" into the wall (if you prefer not to drill into a surface, there is an adhesive version of this button- good for boats for example… you know that might be prone to sinking when punctured!). Then you click the iPad into it using the BaseCover.
Fortunately when the WallMount is not in use the black/silver button is fairly discrete. It might even look like a hi-fi knob from a distance. When mounted, the iPad can rotate 360-degrees. I really liked this mount and if you're willing to buy into the "RingO" system then this will surely be a convenient choice.
Also included is a neat free app called "WALLTIMES." You can use it as a kitchen timer, alarm clock or alarm clock.
TableStand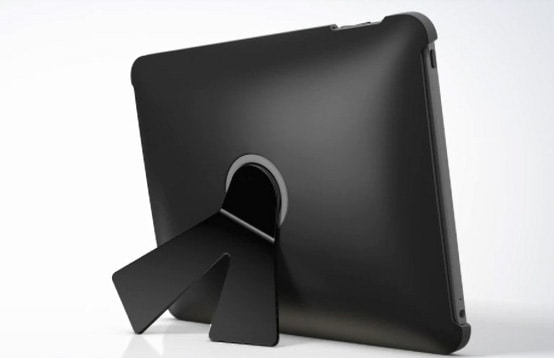 The fourth component is just okay. Not my favorite. It does work. You can slide into the rear of the BaseCover and use it to display the iPad in portrait or landscape mode. Good for watching movies, or reading articles while you eat breakfast perhaps. The problem here is that you need to carry the stand separately. Unlike the new SmartCover by Apple, for example, you can't fold out the existing cover and use as a stand. This is definitely a blow to convenience. If you're looking for a system that can be used as a table stand, you might want to look elsewhere.
Conclusion
I highly recommend Vogel's system for those looking for an in-home wall mount and/or car mount solution. For those looking for a simple table stand or cover, I think this one is a little kludgy and would suggest any number of other options. However, the "RingO" design is very clever, works as advertised and unleashes the full versatility of the iPad.
The innovative design comes with a caveat: price. At $119 US for the full system, you're looking at an accessory that costs roughly 20% of an entry level iPad ($499).
However, other lower cost configurations are available from Vogel's. The Starter Pack is $69.99 (with Holder and Wall Mount); Home Pack $79.99 (with Holder, Wall Mount, and Table Stand); Car Pack $99.99 (with Holder, Tablet Stand, and Car Mount); Presenter Pack for iPad for $89.99 (with Holder, Tablet Stand, and Flip Stand); and All-in-One Pack for iPad for $119.99 (with Holder, Wall Mount, Tablet Stand, and Car Mount).
Vogel's Mount and cover system for iPad

3.5 out of 5 stars
Price ranges from $69 (for holder and wall mount) to $119 (for all-in-one pack as reviewed here)
Now available
www.vogels.com