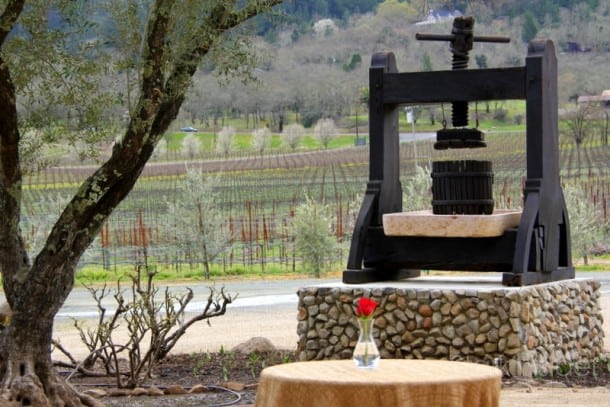 I'm on my way up to Napa again this morning. Spring must be around the corner- it seems like almost every day we're getting invitations out to wine country for launches, tours and briefings, and most of them seem to be coming from Napa. We may just need to recruit a small army to cover all the news, stories, and updates. More on that in a sec.
Over the weekend doey-eyed Loni and I–the 80s music-inspired driver–headed up to Napa for a few pickups. First at Turnbull Cellars in Oakville, followed by Ehlers Estate in St. Helena. About two or three times a year we make the rounds, figuring it's better than having the wine make its way to our home on a bouncy, likely sweltering, UPS wagon. Plus why on earth wouldn't we want to have another excuse to hit the wineries?
Fortunately it was relatively calm on Highway 29. Although, as always seems to be the case, the traffic picked up significantly in the afternoon. Fear the Napa left-hand turn. I'm hoping we see busier days and weekends ahead. Bacchus knows, the wine industry needs it.
First stop: Turnbull Wine Cellars. "Turning heads since 1979" – yep, that old Ford truck does it for me every time.
We've been coming here for years. So often, in fact, I'm thinking it's about time to change up our membership; spread the love a little and try another winery. I checked CellarTracker and we're holding almost 30 bottles of their reds. Make no mistake these guys make nice Cabs (Peter Heitz), yet you don't hear about them much. That may change. Word is they've hired a consultant from Cakebread. First order of business is to pare down and focus. So expect to see more emphasis on reds (their Black Label is reliably good- try the '07).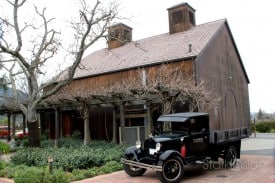 Then, simplification.
Turnbull has a way of turning simple branding exercises into astoundingly impressive obfuscation. For example: Amoenus, Leopoldina, Audaci. These guys would give Davies Symphony Hall a run for their sophisticated money. Then again who am I to say? This site used to be called "StarkSilverCreek" (casino?) and now is Stark Insider- but inside what?
Apparently the Audaci moniker has been sold to Guinness. I have no idea for what or why, maybe someone out there has the G2.
Also, everyone's favorite tasting room personality, CJ, has moved on. Now the reserve cellar feels somewhat…well, reserved. Nevertheless it's still a special place with its black & white photo exhibition. Don't miss that Churchill photo… in a heartbeat you'll understand why the Nazis didn't stand a chance.
One Turnbull nit. Wine club members didn't get a Black Label in this allocation. So as not to miss out, we purchased a bottle.
Then we headed north up to Ehlers Estate just outside the walkable town of St. Helena.
The grounds here are classy, but comfortably modest (Elaine Benes, move over). I'm not sure that makes sense or captures the essence, but let's put it this way: you certainly won't find gaudy marble, stretch limos or over-the-top faux columns, etc. (Hello, Del Dotto?) Not that there's anything wrong with that. But pretension and drunken partiers have a way of crimping my nerves (I know, I need #tigerblood pronto… tell me about it). Such was the not the case on Saturday as Ehlers hosted a relaxed, easy-going pickup party.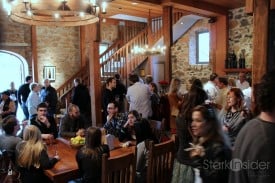 The usual suspects were being poured:  "One Twenty Over Eighty" Cab, Cab Franc, Sauv Blanc, and the flagship "1886" All quite agreeable. Sliders and chips were welcome partners in crime. Soon enough we were chatting up a couple over from Fresno. Thanks to them I have newfound desire to join a Bunco club.
One thing people always wonder is why we buy wines or belong to clubs when we get so many samples for Stark Insider. For me, it's pretty simple. One is business related, the other purely pleasure and personal. Besides, we (or I should really say Loni, the mastermind) like to plan out the cellar and have wines on hand that have stories attached to them. Or maybe they're wines that we simply love and look forward to aging so that we can enjoy them for years to come.
So about that Napa briefing today. It's a preview of an inaugural event that will be held in Napa later this year. There promises to be many familiar faces today from the world of food, and, of course, wine. I'm not sure what to expect. But I'll write something up tomorrow, and hope to get a video out soon if I can get some sound bites and decent Canon T2i footage. Speaking of that sort of thing, if you haven't yet, you must absolutely watch Napa legend Jan Shrem of Clos Pegase in this video — his wife had passed away just two months earlier and he gives an incredible interview (okay… end of plug).
Now, meantime, I need to figure out the best way to get an Apple iPad 2. I can't order it online. We're leaving for the Baja on Sunday so it won't arrive in time. I'm reading the line-ups won't be so bad so my best bet will probably be to hit up the San Francisco Apple Store on Friday night. That promises to be a Rocking evening, on multiple counts.
Until then: twice as fun / half as smart…