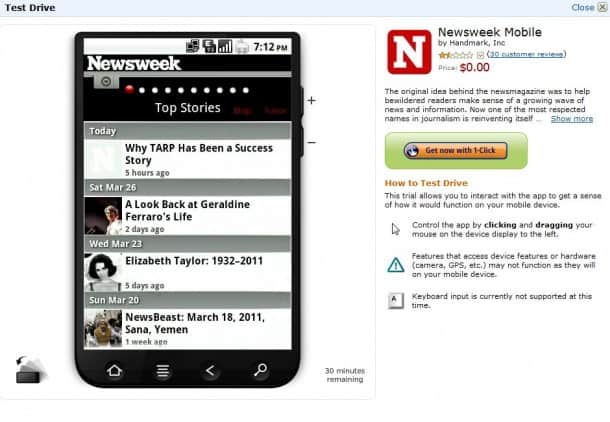 When Amazon puts their fiercely competitive game face on, you better watch out. This is the company, remember, that pretty much invented the modern day e-Reader. Now known as Kindle. Our friend. Now they've jumped into the apps fray with what could be considered a shot against the bow of Apple's iTunes and app store.
The new store is called the Amazon Appstore for Android — no confusion there.
One of the nice things with an open strategy (well, mostly) that Google has employed with Android and other products is that developers and vendors can go whole hog crazy with customizations and extensions.
There's been plenty of places to get apps for Android beyond just Google's store, but Amazon's presence could very much change the game as we know it.
But how good is the Appstore for Android? Read on for our hands-on.
User Experience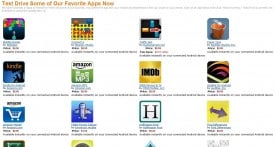 First off, there's two ways to access the new store. You can simply go to the Amazon web site. There you can click through various titles and browse based on best-selling, popular, new, etc. This is very much the traditional Amazon experience and it feels very familiar. The other way to access apps is via the app you'll need to download to your smartphone or tablet. This app then can synchronize purchases (think Whispernet) between the web site and your device. In the app you can also browse across titles. If you purchase an app (whether free or paid) on the Amazon site, you'll see a pop-up note prompting you to download it to your phone.
Test Drive – Previewing an App (We Like!)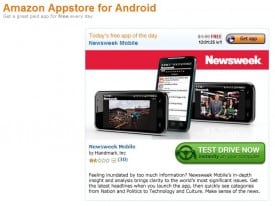 One really unique thing about the Amazon Appstore is its preview capability.
As far as I know Amazon is the only store that allows you to actually test an Android app before buying it. It's done virtually via the web browser, providing a mock-up of the app running as it would on an actual Android device.
There are some limits of course. The keyboard doesn't work, and obviously things like GPS and camera functions also won't work. There is a time limit of 30 minutes. However, this should be plenty of time to decide if the app is worth buying.
This feature alone is worthy of a solid recommendation for the Amazon Appstore for Android. It will save many of us a lot of time and hassles downloading and testing apps on the phone. The web browser is faster, and more comfortable to use to scan all the available apps.
Bottom line: It's slick, it works. We like it!
Free App of the Day (We also Like!)
Another Amazon trick is the free app of the day. Each day you can download a freebie. The guys up in Seattle have fortunately decided not to heap on the crapware. There's an app given away gratis every day. If you're an Android fan than you definitely need to keep your eyes on this. Today, it's Newsweek Mobile (with a most impressive 1.5 rating). Past titles included SwiftKey (a recommended keyboard replacement), Angry Birds Rio (no-brainer!), and World Series of Poker.
Verdict
The Amazon Appstore is not going to change the world, but it's the best alternative to Google's stock Android store that we've yet seen. The two aforementioned features — test drive and the free daily app — separate it from the pack. Plus it's easy to use. We didn't experience any hiccups during testing. The fact that it's backed by Amazon is huge for us fans of Android. Expect more innovation. It's a good day for Android.