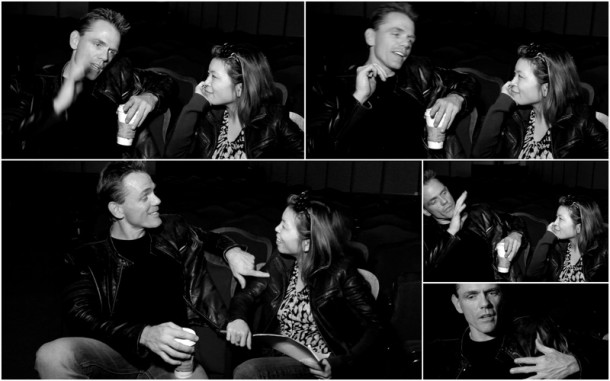 On with the Neverlution. Comedian Christopher Titus continues to tour the country and bring his message to the pharmaceutically challenged masses. In this second part of the Stark Insider video interview Titus explains why it's time for the country to get serious about social reform. One idea: Late-term abortions. Under the Titus plan if your son has a proclivity towards serial killing… boom, abort! All is fair game up until age 22.
It all started at the DMV where Titus ran into an unruly, out-of-control five year-old. "My Dad would've taken care of me," he says, noting that the father of this Snicker wielding child was blissfully ignorant.
And when, he wonders, did we start giving out awards for sucking? "Because I would've been a legend."
Beneath the laughs there is a serious message or two. Maybe it's that this country is getting soft? Or, specifically, parenting skills have become all but subservient to child monsters roaming the land? Another angle: we're celebrating our over-medicated condition — this is the queue to a Charlie Sheen reference.
Also Titus talks about his charity, Insight Youth Project. Unlike some charitable events where the spotlight is mostly celeb, this one is not about limos. Instead the kids are the focus, and people are there to volunteer, and are passionate about the causes. In other words, you're more likely to see a hot dog cart than foie gras.
This easily ranks as one of my favorite SI interviews. Sure, Titus uses several entertaining but canned bits from the show, and there are a fair number of rote lines — this is a comedian after all. But he generously sat down with us for close to an hour. We shot so much fun footage that I didn't really want to edit it down too drastically. In the end we decided to publish a two-parter. Part One can be seen here. Also, if you dare you, can read my review of his show Neverlution, which recently played at the Marines' Memorial Theatre here in San Francisco. The tour is headed through Texas and Florida before heading back to California with stops in Glendale, Temecula, and Irvine.
I should note this is wonderfully TV-MA and not for the kids — or maybe it is, if they're old enough to hear a couple of well-placed cusswords. Chances are they've already heard them many times over at school. But they've likely not been schooled by Titus on modern day parenting.
Yes, fun out of felonies.