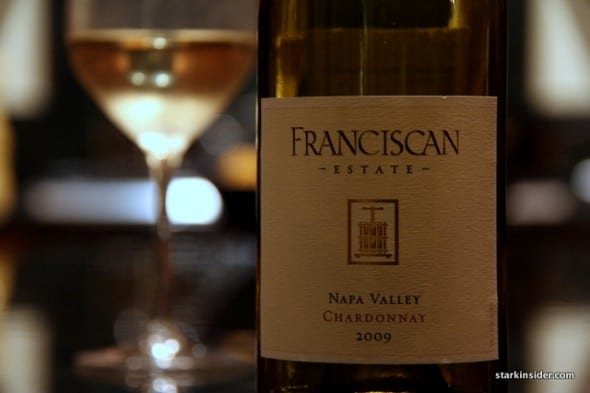 When it comes to whites, I like my wines un-oaked — yes, you could say I'm going with the trend. But it's consistent with my palette, which is all about "less is more." Same, too, with my coffee (no sugar, dash of low fat milk), espresso (dark, rich) and foods (little to no salts and seasoning, except when I eat at Zare Fly Trap in San Francisco then all bets are thankfully off).
So it is with this Franciscan Chardonnay from Napa Valley, another example of a crisp, medium white.
The wine was aged for seven months in oak barrels so you still get a nice dollop of creaminess, which is a signature element of the Chardonnay grape, but without the so-called "Oak Monster" effect. Because the wine was aged "sur lies" — meaning it aged in contact with yeast cells, not on top of a French woman as some of you might suspect — there is an elegant toasty quality to the finish.
Last time I did a round-up of Franciscan wines, I scored the Chard 89 points. But for this price I think it deserves to be 90+. In my notes then I wrote that their Cuveé Sauvage Chardonnay had more minerals (which I like). That makes sense given that one was aged in new oak for 15 months.
Napa can be expensive, so it's a welcome sight to see this Chard come in at only $18 retail. An easy recommendation.
Would pair well with salmon, roasted chicken breast; or just do what I did and enjoy it with some fine Asiago cheese and crackers!
2009 Franciscan Estate Chardonnay
Napa Valley
13.5%
$18 retail
90 points – highly recommended