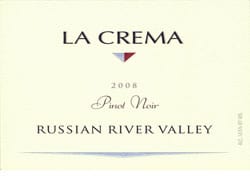 Strong value play. A relaxed drinker demonstrating true Pinot style from the Russian River Valley.
More: Russian River Valley '08 Pinot Noir wine media tasting round-up
Dusty, earthy, tobacco with black cherry on the palate.
Balanced with enough tannins to keep the flab away. Look for it for under $20 at your local retailer including Trader Joe's. The '08 was another strong year for Sonoma Pinot.
La Crema also makes a nice Chardonnay for about the same price.
Recommended.
$38. 4,700 cases produced. 100% Pinot Noir. 100% Russian River Valley. 10 months in barrel (98% French, 40% new barels).