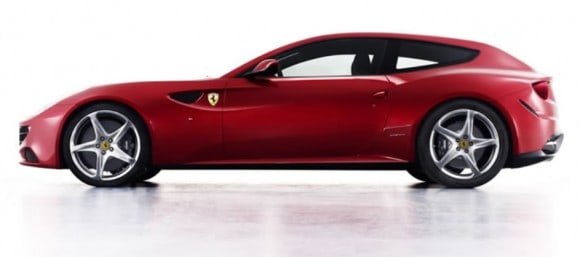 I woke up this morning with a micro-economic driven question: would I prefer to go 208 mph or get 51 mpg?
Lo and behold I read today about the new Ferrari FF, a momentary respite from my "Hybrid Experience."
The sleek four-seater packs a 6.262L V-12 that provides "stunning acceleration" with 0-62 reported by Ferrari to be 3.7 seconds. And wouldn't you know it, the engine, in conjunction with a dual-clutch F-1 gearbox, will get the little barn burner up to 208 mph. That's almost 30 mph (or 15%) faster than my old Porsche 911, not that I ever came close to testing that car's top speed of 178 mph.
But I digress, really.
It can happen when your research into regenerative braking systems and permanent magnet AC synchronous motors is momentarily side-tracked by the latest shape out of Maranello. You see, 51 mpg, courtesy of the Toyota Prius, is the number that should really matter to me, despite the cry of every sports car-, adrenaline-loving bone in my body.
About the shape of the FF, I'm somewhat disappointed with that bread box rear squared rear end with the jarring, angular C-pillar. The front end: bravissimo. But that rear reminds me of the BMW Z roadsters back in the day with their quirky Bavarian style. Might be an acquired taste that. Plus, fold down seats for wagon-like convenience? Sounds like an Italian sin to me.
Regardless of such matters, I need to take a deep breath, another sip of strong espresso, and remind myself that my next car will — yes, it will — be a Toyota Prius hybrid. My research continues, with renewed focus, and less dreaming.