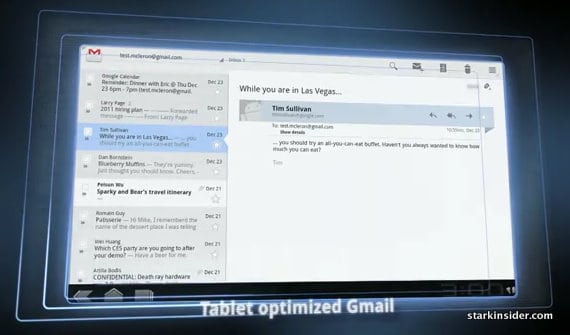 Breaking news out of CES here in Las Vegas. Google just posted a video preview for the OS update everyone is talking about: Android 3.0, or "Honeycomb" as its also known. A significant release, it's widely anticipated that this update will be optimized for the also much hyped and discussed Android tablets being announced left and right here at CES.
At the beginning of the video, the OS update is billed as being "Built Entirely for Tablet."
All eyes will be on Honeycomb to see if it can come close to matching the Apple iPad iOS experience.
Since tablet and smartphone manufacturers such as LG, Samsung, HTC, Motorola all use the open Android OS, the success (or failure) of the updated version can have a significant impact on the industry.
Note that the timing of the publishing of the video to YouTube coincided with the start of the Samsung press conference here at CES. Interesting, will Samsung show off a Honeycomb tablet, possibly the Galaxy Tab 2?
The 1:33 video preview showcases web browsing, a "tablet-optimized" Gmail, a new YouTube experience which appears to employ coverflow style browsing, video chat via Google Talk, 3D Google Maps.
UPDATE 1/5/2011 2:14pm PT: Minutes after it was made available and reached over 300 views, the video on YouTube was made private… keep checking back. Meanwhile the Samsung CES press conference is under-way (Galaxy Tab wi-fi only model announced… more coming). Note the Engadget version below should work.