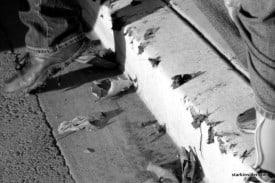 Over the past 15 years of exploring Napa I've learned this: until you've destroyed at least a pair of shoes every year you're not doing the place justice.
We all like to hang at the tasting room and wax poetic about alcohol levels, shipping regulations and wine labels, but until you've done the mud shuffle (scraping your shoes on concrete or the curb, or using a stick to extricate massive amounts of super Napa mud from the soles of your shoes), consider yourself a rookie. Or perhaps you're just too L.A. for the muddy vineyards this time of year.
Me?
Well, okay, I admit that I would actually prefer to stay indoors in the tasting room — the cozy ones please like Ehlers Estate or Kaz Winery in Sonoma — then venture out into the expanses of wet, muddy vineyards. Summer time, of course is a different matter altogether.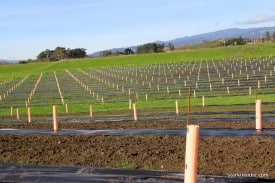 Loni convinces me to get out into the field (or as I call it: "On location. Action!"). It never feels right to leave my Peroni or Silver Oaks Cab behind, but in the end I'm always thankful.
Again, it was the case over the weekend at the Napa Truffle Festival. I'm not so sure it was a festival though. Conference, more like it. The food and wine were over-the-top, beyond reproach, but the format — a series of seminars and presentations — were more akin to a conference. Not that there's anything wrong with that.
Once again, predictably I destroyed a pair of shoes. We headed out to visit one of the first truffle orchards planted in Napa, about an acre total.
Thankfully, as every day in wine country rewards, I learned a few things:
Truffles are not chocolates (welcome to my humble world… fortunately I'm told I'm not ignorantly alone in this assumption)
Dogs are used by growers to locate and dig-up truffles
In theory at least, Truffles can afford 90% margin levels, as opposed to the 45% margin, for example, of Chardonnay grapes (risk, however, is a different topic altogether)
About that mud.
When I came back from that post-rainfall truffle tour, my shoes were caked in Napa mud. Thick, amazing super-glue. I'm not so sure the Westin Verasa staff were excited to see me (and others at the Napa Truffle Festival) stomp across the sumptuous lobby after a day out in the wet vineyards. Later, I would duck into a bathroom and use the sink for what seemed like half-an-hour to attempt a salvage operation on my poor mangled loafers.
Then I realized, why bother?
I had destroyed shoes up in Mount Veeder, along the foggy coastline of Bodega Bay, and in some farm in Calistoga where people insisted on calling me "Clifton."
Consider it tribute. I mean this is Napa and Sonoma. We're in Northern California, home to some of the most beautiful wine country and exceptional wines in the world.
What, me worry?!