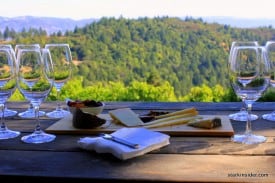 Apparently A View to A Kill is more than just a James Bond movie. Sitting high atop Mount Veeder in the heart of Napa Valley, I thought for a moment I was in the middle of a living painting; the rolling hills with swelling rows of vineyards and distant sun streaming across the Mayacamas Mountains hills is a sight to behold. This is definitely not Saskatchewan. Van Gogh's Red Vineyard be damned; living it first hand is priceless.
Among all the views I've seen in my lifetime — the CN Tower, Empire State Building, Eiffel Tower, and, heck, even my own back yard overlooking the foothills of Silicon Valley — Mount Veeder may just be the most cathartic, awe-inspiring of the lot. That we would be tasting through some fine examples of wines produced in the region was a tickle-me-Elmo bonus.
It all started at ground level, in the Franciscan Estate Winery located in St. Helena. There, a handful of magazine writers, journalists, and even a wily camera-guy/writer named Jim (who later would tell me to always stick with Canon lenses), met up for a tour of the famous Mountain, followed by tasting of wines by Mount Veeder Winery and Franciscan Estates. Later, we assembled in the set-worthy dining area at Franciscan for a lunch with special guest, winemaker Janet Myers.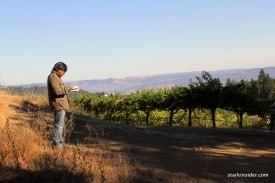 Because of its steep mountain face (some vineyards sit on 30-degree declines), the Mount Veeder AVA produces some of the most highly structured and desirable red wines, notably Cabernet Sauvignons. I am, through-and-through, a committed fan of the big, bold Napa reds. Proudly so. Many scoff, too much alcohol! lack of nuance! Perhaps, and no argument here necessarily, but that doesn't mean that the trademark Napa style is any less worthy than its world-class reputation bestows. Aside from the French, Napa Valley is possibly the only other wine region that has so successfully and indelibly created a wine signature that is unforgettable and unique. When I think of small regions, trying to break through — Walla Walla comes to mind — this I believe is largely their branding challenge. Washington State, on the other hand, as a larger entity has had success with Riesling.
I wondered if we would take a Sterling-like tram, or even require a helicopter to land atop the mountain. Alas, nothing so dramatic. Instead we were whisked up on a bumpy, but comfortable ride in matching SUVs. On our way we passed an experimental 20-acre vineyard owned by UC Davis.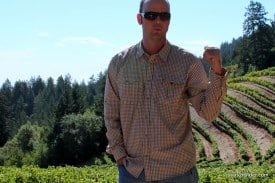 "This is the most challenging harvest in the 13 years I've been doing it," said Mount Veeder Winery vineyard manager Matt Ashby. "I'll be happy when it's done."
Talking to us in a small circle at 1,500 feet elevation, Matt explained the difficult weather patterns and the unpredictable season. The last thing they want to avoid is a "mercy pick" when grapes are picked before they're fully ripened, sometimes a necessary risk due to impending rain storms.
Currently the vines are producing about 1 brix every 2 weeks, a slow rate that could make it difficult to achieve desired levels by November.
In addition to a notable advantage in drainage, the three Mount Veeder Winery vineyards (Rosenquist, North Ranch, South Ranch) are perfectly located, thanks to their Eastern exposure. Moderate morning sun pours across the vines, then as the sun becomes wickedly hot, the mountains shield them from the extremes. The winery produces about 30,000 cases per year.
After the tour, we headed to a small picnic area overlooking one of the most beautiful vistas in all of Napa, maybe the world — and the entire universe. Yes, indeed a view to a kill.
The tasting line-up included a four-bottle vertical (sans '02):
2001 Mount Veeder Cabernet Sauvignon Reserve (14.1%)
2003 Mount Veeder Cabernet Sauvignon Reserve (14.5%) $80
2004 Mount Veeder Cabernet Sauvignon Reserve (14.5%) $80
2005 Mount Veeder Cabernet Sauvignon Reserve (14.5%) $80
Aside from the '05 which needs some cellaring, if only to match the complexity of the other vintages, these are all exceptional examples of Mount Veeder "terroir." Juicy, layered, rich, opulent; dark blackberry with elegant vanilla. I though the balance of tannin to fruit was spot-on, at least for my palette. The cheese pairings and nuts made for a memorable tasting. For $80 you can also buy a Turnbull Cab which is similar in character.
My pick of the vertical would be the '04, which appeared to be the consensus on this day. It reveals more complexity in the mid-palette which I suppose is another way to say: it's slightly more interesting on the palette. Think Sean Connery, neatly pressed grey suit in Goldfinger.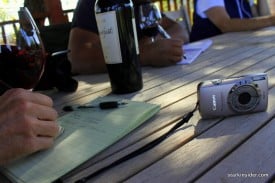 Next we stopped by the Franciscan vineyard located next to Silver Oak (one of my favorites). In 1975 Silver Oak purchased Franciscan, so they are often regarded as sister wineries (living happily under the Constellation Brands corporate umbrella). It's a ritzy locale. Located smack-dab in the heart of Napa, Opus One, Groth, Plump Jack and Screaming Eagle are some of the high profile neighbors.
But first, a quick lesson from our guide Nolan, who explained sustainability in terms fans of The Lion King or National Geographic might understand. "You need owls to scare the birds," he explained. "But then you need snakes to chase the owls. Then Tigers to get the snakes." Then someone in the group suggested that elephants would be needed to take on the tigers. All of this, sadly, went over my head.
Next on deck, literally:
2006 Franciscan Estates Magnificat $50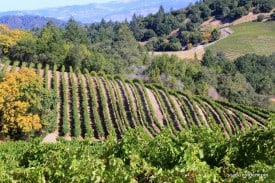 The Magnificat is a Bordeaux blend with four varietals (56% Cabernet; 40% Merlot; 3% Malbec; 1% Petit Verdot). Interestingly, there was disagreement and possibly a corked bottle during our tasting — it happens. Jim thought the first bottle was flat and lacked the nose and bold flavors he was accustomed to experiencing with Magnificat. Others thought it was actually just right. So we popped open a second bottle to find out. Jim thought it was more representative. Meanwhile, most everyone else thought there was something wrong with the bottle, perhaps corked; TCA.
Regardless, Magnificat is a smooth, elegant wine. I've enjoyed it several times before, including a sit-down we did a few years back during a video shoot for WineTube TV. Although the name might twist your tongue a bit, the finish certainly won't. Those that prefer a smoother wine experience would likely prefer the Magnificat over the Mount Veeder Cabs. It's a matter of preference, mood, or food pairing. The vanilla tones, oaks, and mochas are more prevalent on this one. It's a most enjoyable wine, and recommended.
2007 Franciscan Cuvee Sauvage $40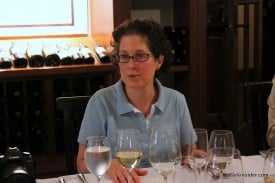 Finally, our day concluded with a three-course lunch back at Franciscan Estate. Most notable was the pairing of the 2007 Franciscan Cuvee with some pan roasted Day Boat Scallops, butternut squash, cashews and curly endive. Estate Guest Chef Chris Kennedy Aken also scored with the pan roasted Tri-Tip, Chanterelle Musroom and Gnocci that followed.
Not my typical lunch, and not a typical day.
Then again, every now and then you have to live the life of James Bond, even if it means using a SUV instead of a rocket pack.
Franciscan Estate Winery
1178 Galleron Road at Highway 29
St. Helena, CA 94574
(707) 967-3830

2006 Franciscan Estates Magnificat $50
2007 Franciscan Cuvee Sauvage $40

Mount Veeder Winery
Private tastings of Mount Veeder Winery Wines can also be arranged by calling 707-967-3993.

2001 Mount Veeder Cabernet Sauvignon Reserve (14.1%)
2003 Mount Veeder Cabernet Sauvignon Reserve (14.5%) $80
2004 Mount Veeder Cabernet Sauvignon Reserve (14.5%) $80
2005 Mount Veeder Cabernet Sauvignon Reserve (14.5%) $80