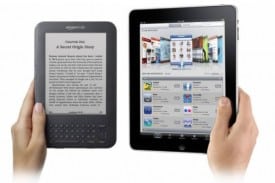 An interesting report this morning suggests that the Apple iPad is cause for Amazon Kindle's recent share erosion; turns out a color touchscreen and sexy apps may just be too tempting for consumers to ignore when it comes to selecting an e-reading device.
The report comes via AppleInsider from ChangeWave Research, a firm I'd not heard of before.
Based on a poll of 2,800 consumers, over the last three months the iPad has doubled its market share to 32% while Kindle has fallen 15% to 47%.
At this rate, employing tablecloth forecasting, by next quarter the iPad will easily have assumed the crown as most-owned e-Reader. Caveat: I'm not familiar with ChangeWave's methodology.
No doubt this is not IDC or Gartner, however, we do know that the iPad is on fire so it's not surprising to see this kind of data surface.
Some reports indicate that Amazon will release a color touchscreen version of Kindle sometime in 2011. With Barnes & Noble already offering said capability with its Android-powered Nook, it would be a move that could not happen soon enough.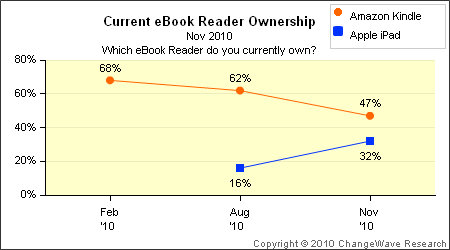 Amazon CEO Jeff Bezos, most publicly on a Charlie Rose appearance, has referred to Kindle as the best and purest form of digital reading experience, and that its users do not want bells and whistles (ChangeWave data indirectly supports this claim: 93% of Kindle owners read books on the device vs. 76% for iPad).
Another point in Kindle's favor is obviously price. At only $139 (for the Kindle 2) it's far less than the entry iPad which starts at $499.
A two dog race?
Over the next 90-days, consumers in the poll indicated they were more likely to buy an iPad than a Kindle. The results suggest Apple and Amazon are virtually neck-and-neck (at least according to this report) when it comes to e-Readers, with Barnes & Noble, Sony and others trailing.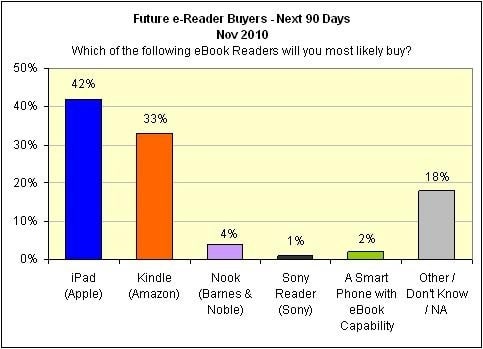 Source: AppleInsider / ChangeWave Research