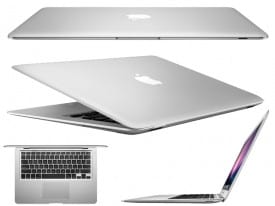 Apple needs to make an iPad Air. By combining the best of both the iPad (touch interface) with the MacBook Air (mobile computing) Apple could very well build my dream product. I suspect it would sell like mad — although these days that would be par for the course for Apple.
What exactly is an iPad Air?
It's a MacBook Pro with a detachable screen that functions as an iPad when removed.
Yes, we've seen similar ideas hit the market, albeit with abysmal results. Lenovo, for example, released a convertible tablet (S10-3t), which was essentially a netbook with a touch screen that could be rotated. In my books it does nothing well, and, despite the best of intentions, is a scatterbrained design.
I believe only Apple can pull-off this product design successfully. But I'm not convinced they would want to… would it make business sense?
Currently if you want the best tablet out there you buy an iPad. It's great for reading newspapers, magazines, and the apps are mind-boggling inventive and fun.
But, if you want mobile computing, you'd need to buy a MacBook of some kind — because life isn't all fun and games, and sometimes we need to still type emails, create documents, and write angry letters to Buick management for example.
So Apple sells you: an iPad and a MacBook. Combining the two would result in only one sale.
Still, I can dream. And I believe market forces will result in a new generation of combination laptop/e-reader/touch tablet devices.
Here's my specs for an iPad Air:
11″ display
Under 3 lbs.
MacBook Air experience with full-size (backlit please) keyboard, standard ports (USB, SD)
Detachable display that doubles as an iPad when removed
i5 / i7 processor options (what a dream)
1TB solid state flash hard drive (ok, this is getting out of hand… I will settle for 256GB)
Mac OS X with Mac App Store which I predict will provide iPad like Apps based on touch interface
12 hour battery life (full day, no worries)
Bonus: built-in iPhone dock that enables the phone to be used as additional input device and/or display relevant system information
Price: $899 (like I said I'm dreaming big here)
Sure there are many engineering challenges. For instance, the screen (a removable iPad) would need to have a processor and battery. The two devices would need to run either Mac OS X or iOS. And no doubt cramming all that tech into a slim design would not be easy. But, I say, that's what rock-star engineers are for! For all I know, they're probably already running around Cupertino with top-secret mock-ups of my dream device.
What do you think, could Apple make an iPad Air? Is this something we'll see in 2011? Or should I just continue to dream and buy a Lenovo S10-3t tablet … I mean, seriously, it's as if the San Francisco Giants might win the World Series or something.