It all starts later today: the film, the food, the wine. Yes, it sounds oh-so-welcoming and perhaps just slightly extravagant. Chalk it up to one of the many perks of living in Northern California.
Thanks to the ever-optimistic, and dynamic duo, Marc and Brenda Lhormer — among countless others who have worked for years to make this possible — we're getting a "preview" of what the Napa Valley Film Festival will look like in 2011.
The three-day launch celebration runs today through Sunday, and packs quite a programming punch. If this is any indication of what's in store for NVFF 2011, then rest-assured it will be a quality affair.
Kicking-off the festival preview tonight is two screenings of Rabbit Hole (review). Produced by Nicole Kidman's company, you can bet she selected the project for its strong material. Also, I'm sure she suspected it would give her strong Oscar consideration. I say right on both accounts. The film is actually based on a play which I've already seen staged twice this year (Reviews: Palo Alto Players, Coastal Rep).
Also, based on a screening of Rabbit Hole in Mill Valley last month, I can attest to the buzz surrounding Kidman's performance. Yes, there is crying. But there is a deep, complex person there — one that turns her back on religion to find a peaceful place where her life can possibly return to a normal life after a tragic accident forever changes her family. Strong supporting performances: Aaron Eckhart, Sandra Oh, Dianne Wiest. And a compelling debut from Miles Teller. BTW – director John Cameron Mitchell is the youngest 47-year-old I've ever seen.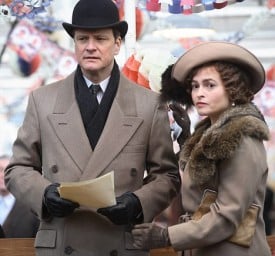 A private dinner follows before programming resumes Saturday afternoon — isn't it nice of organizers to build-in some R&R time. With most tasting rooms opening around 11:00am (some earlier) there will ample time for visitors to hit some of their favorite wineries.
Lest you forget you're not in one of the most famous wine regions in the world, each of the three films on Saturday will feature pre-screening wine-tasting.  Films include Lifted (cast in attendance), The Happy Poet (Director/star Paul Gordon in attendance) and Blue Valentine (stars Ryan Gosling and  Michelle Williams in attendance), none of which I've seen. Note: don't forget The After Party and The After-After Party; although does it make it somewhat less boss to include it on the official schedule?
NVFF was fortunate to snag The King's Speech for a special preview screening (wide release is later this month) on Sunday at 2pm. It's a must-see.  I've seen the film twice at Mill Valley (including an unforgettable experience at Dolby Labs in San Francisco – decent sound…), even enjoying more the second time —  the sign of  a strong film in my books. I've had similar follow-up experiences with films such as Memento, Mulholland Drive, and Goodfellas, among others. The film is, as said in British accent: Splendid! A period piece focused on King George IV's stuttering problem, it manages to feel very contemporary, and even comically edgy at points. Colin Firth and Geoffrey Rush are at the top of their games. As is director Tom Hooper (see interview below) who has an eye for timeless aesthetic.
Closing the preview is I Am with director/subject Tom Shadyac in attendance. It's another one I have yet to see, but with my schedule on Sunday which requires me in San Jose for an event, I'm not sure I can swing it this time.
Needless to say, this is looking like an entertainment-filled weekend in Napa. They say this weekend preview is a celebration all about film, food, and wine. So now it' s just up to you and I to go put that theory to the test.
SCHEDULE AND TICKET PURCHASE INFO

Friday, November 12:

4:00pm

Wine and Cheese Pre-Reception
Caldwell Snyder Gallery, 1328 Main Street, St. Helena
Featuring wines by Salvestrin (2009 Estate Sauvignon Blanc, 2005 Estate Cabernet Sauvignon);
cheeses by Robert Deakins (courtesy of Oliver's Market); and water by Volcanic

5:30pm

Napa Valley Premiere of RABBIT HOLE, directed by John Cameron Mitchell and
starring Nicole Kidman and Aaron Eckhart
Producer Gigi Pritzker in attendance
Cameo Cinema, 1340 Main Street, St. Helena
Doors open at 5:00pm for Pre-Screening Wine-Tasting
Featuring wines by Astrale e Terra
Tickets: $30 each; admission includes pre-reception and pre-screening wine tasting;
available for purchase at www.cameocinema.com

8:00pm

Private VIP Dinner for NVFF Founding Patrons and Filmmakers
Farmstead, 738 Main Street, St. Helena
For information on our Founding Patron Program: www
Napa Valley Film Festival Launch Celebration – Event Schedule – 2

8:30pm

Encore Screening of RABBIT HOLE
Producer Gigi Pritzker in attendance
Cameo Cinema, 1340 Main Street, St. Helena
Doors open at 8:00pm for Pre-Screening Wine-Tasting
Featuring wines by Astrale e Terra
Tickets: $20 each;

Saturday, November 13:

2:00pm

Napa Valley Premiere of LIFTED (PG 13) with the Cast Members in attendance!
Napa Valley Opera House, 1030 Main Street, Napa
Doors open at 1:15pm for Pre-Screening Wine-Tasting
Featuring wines by Raymond Vineyards
Tickets: $15 each … or $10 for 17 years of age or younger

5:00pm

THE HAPPY POET with Director/Star Paul Gordon in attendance
Napa Valley Opera House, 1030 Main Street, Napa
Doors open at 4:15pm for Pre-Screening Wine-Tasting
Featuring wines by Raymond Vineyards
Tickets: $15 each;

8:00pm

Napa Valley Premiere of BLUE VALENTINE, starring Ryan Gosling and Michelle Williams
Producers Alex Orlovsky and Jamie Patricof in attendance
Napa Valley Opera House, 1030 Main Street, Napa
Doors open at 7:15pm for Pre-Screening Wine-Tasting
Featuring wines by Raymond Vineyards and snacks (for sale) by Carpe Diem Tickets: $15
each;

10:30pm

The After-Party
Oenotri and Gordon Huether Gallery, 1425 First Street, Napa
Featuring wines by Terlato Wine Group and water by Volcanic
Tickets: $20 when purchased along with any one Saturday screening

12:30am

The After After-Party
John Anthony Wine Lounge, 1440 First Street, Napa
Free for all guests attending the After-Party (wristband required)

Sunday, November 14:

2:00pm

JUST ADDED: A Very Special Preview screening of THE KING'S SPEECH, by Director Tom Hooper.

THE KING'S SPEECH stars Academy Award nominee Colin Firth as King George VI, who unexpectedly becomes King when his brother Edward abdicates the throne. Academy Award Winner Geoffrey Rush stars as Logue, the man who helps the King find a voice with which to lead the nation into war. There's Oscar buzz all over this movie!

Napa Valley Opera House, 1030 Main Street, Napa
Doors open at 1:15pm for Pre-Screening Wine-Tasting
Featuring wines by Terlato Wine Group
Admission: $15 each;

4:00pm

VIP Reception for Festival Founding Patrons, Filmmakers and Media
John Anthony Wine Lounge, 1440 First Street Napa

5:30pm

Napa Valley Premiere of I AM, with Director/Subject Tom Shadyac in attendance
Napa Valley Opera House, 1030 Main Street, Napa
Doors open at 4:30pm for Pre-Screening Wine-Tasting
Featuring wines by Terlato Wine Group
Tickets: $15 each
8:00pm

Private VIP Dinner for NVFF Founding Patrons and visiting filmmakers
Morimoto Napa, 610 Main Street, Napa