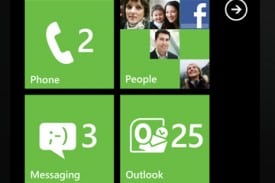 Microsoft's continued struggle to gain a foothold in the increasingly lucrative and critical mobile smartphone market doesn't appear to be easing. Android, the upstart operating system from search giant Google, is possibly the largest factor in explaining why Windows Phone 7 is not selling well.
Android has exploded in the last eighteen months and according to some reports now accounts for more handset sales than even Apple's cultural phenomena, the iPhone.
Another factor may be that Microsoft is late to the game with a next generation operating system designed for a new generation of smartphone user.
The iPhone came out in 2007 and Google Android in 2008. Both systems, relying heavily on touch and swiping gestures, were marked departures from the keypress-based input interfaces of yore. By comparison Windows Mobile was kludgy, ugly and lacking the massive sex appeal that came with having a market with tens of thousands of apps.
But since Microsoft is so quiet when it comes to releasing public sales figures (no exactly a vote of confidence), it takes a bit of guess work when it comes to measuring the success of Windows Phone 7, its revamped operating system released in November.
One UK store (Mobiles Please) states that Android outsold Microsoft 15:1. According to the retailer (and Electronista), only 3% of its customers opt for Windows Phone 7.
No doubt anecdotal, but until Microsoft steps up its sharing of sales data, it risks allowing the rumor mill that is the Internet and blogs do the talking.
Here are at least 5 reasons why Google Android — despite being a newcomer — has such a massive lead over Microsoft and Windows Phone 7 when it comes to mobile computing:
1. Google Android is open.
2. Marketplace for apps, while not as big as Apple, has over 100,000 apps. Consumers love apps.
3. Early to market. First revs of Android were rough, but Google refreshed it often. It has at least a 24 month head start. Reviews of Windows Phone 7 have been mostly positive, but is that enough to overcome such a deficit?
4. Google is a Web 2.0 company. Microsoft is not. The cloud and smartphones is a supernova caliber marriage.
5. Google Android is everywhere: Lots of carriers (Verizon, Sprint, AT&T); Lots of manufacturers (Samsung, HTC, Motorola, LG, etc.).