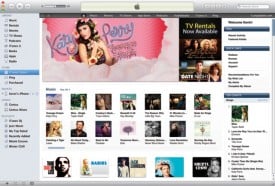 Apple may finally be close to offering a subscription model for its iTunes music service. Currently songs and albums can only be bought a la carte. Many have long said an all you can eat model would open the door to more predictable revenue streams, increased customer loyalty and enhanced ease of use.
Would you pay $10 for all-you-can-eat iTunes? $15?
Although Apple did not announced anything during its September iPod refresh, the rumor is once again circulating. It's important to note that this would not be the first time we've heard about subscription plans and iTunes. However, Apple has insisted before that it would hurt downloads and cut into sales.
If nothing comes to fruition blame the New York Post that broke the story (and picked up by Reuters), or maybe we can blame ourselves for being hopelessly optimistic. From the report, "A few weeks ago, Apple iTunes boss Eddy Cue discussed with music labels how they could implement this plan, the Post said. The service could have tiered pricing ranging from $10 to $15, depending on much music would be included and how long consumers would be able to access the content, one source told the Post."
Currently Microsoft, with its Zune pass, is one of the few large companies offering a monthly service. For $14.99 consumers can download as much music as they want. If the plan is cancelled the music becomes un-playable thanks to DRM technology.
"I think there could be some demand for [an Apple subscription service], but it wouldn't be universal," said Gartner music analyst Mike McGuire to the New York Post.
As the holidays approach we can expect more speculation about this and other stories; Apple, it seems, has mastered the art of staying in the headlines, sometimes by design (iPad), other times by less flattering circumstances (iPhone 4 anttenagate). Earlier this week reports surfaced (WSJ) that Apple was readying an iPhone for the Verizon network. Scheduled for early 2011 it would break the exclusive deal AT&T currently holds with Apple.