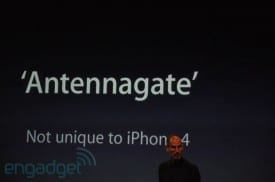 This morning Apple held a surprise press conference at 1 Infinite Loop. Although "Antennagate" was widely believed to be the topic, it wasn't confirmed until the "antenna song" kicked-off the meeting to muted response. CEO Steve Jobs came out to address a small group of reporters dressed in traditional (but tired) black turtleneck and jeans.
Would Apple fess up, and admit that there was a problem with iPhone 4?
Yes – "We're not perfect. Phones aren't perfect."
But not without about 20 minutes of chest pumping and reassuring factoids: 3 million iPhone 4 phones sold, $100 million state-of-the-art anechoic test chamber.
Despite the press hoopla, Jobs assured us that the actual number of complaints was tiny. In fact, according AppleCare data, only 0.55% of users have called Apple to report an issue with reception. The AT&T return rates for iPhone 4, at 1.7%, is far less than that of 3GS, 6%,  for the same time period. Further, he went on to say that the new phone also drops less calls than the the previous model.
The solution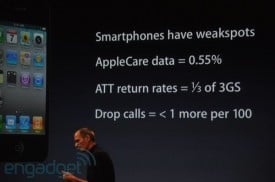 Apple is doing three things:
A new IOS 4.0.1 software update has already been pushed to users. It fixes the bars display so it's easier to see reception levels.
Free case – Apple is offering a free case to anyone who purchases an iPhone 4 (and a refund to those that have already purchased one) through September 30.
Full refund – optionally, the phone can be returned within 30 days, for a full refund.
During the Q&A Jobs was asked if Apple would do anything else to rectify the issue, like design a new antenna for instance. He said, "You know, the 3GS has the same problem. We're getting reports from customers that this is better than the 3GS. So I don't know changing the antenna design would help — I don't know what our next antenna design will look like."
When asked whether he knew of a potential flaw before the iPhone 4 shipped, Jobs became testy, "Are you talking about the Bloomberg article? That's a crock, and we've challenged them to show proof of that. If anyone had said this thing has problems, we would have dispatched people to deal with that issue."
Photos: Engadget.