Valley of the Moon, who are you? Who, who, who, who? Ah, yes, it must be October. A chill is in the Northern California air, evenings are crisp, and I still haven't figured out what to think of the infamous Cuvée de la Luna, that mysterious of blends produced by Glen Ellen-based V. o. t. M.
As Jerry Maguire might have said once, "it's like popcorn in the pan. Some pop… some don't."
For those that don't recall that was the Red that had multiple identities; part wolf, part human, part wine. Every time I went to our cellar and pulled a bottle of the '04 it was like spinning the wheel of fortune. I think we still have some buried in a box somewhere back there (and maybe explains the discount we received at the time). I'll be sure to celebrate Halloween with a bottle. Howling at the moon with some cuvée.
Meantime, here is an '04 Sangiovese from said winery. This is why I always like tasting through several bottles of the same wine on multiple occasions, before decided if it popped. A wine can be mysterious. And that's part of the fun of it. It's by no means a science project, or a predictable concoction; like dependable Diet Coke for example. The same wine can taste wonderful one night, and downright tainted weird the next.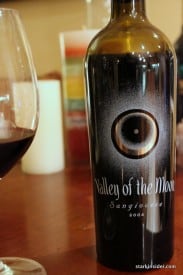 Thankfully this varietal from V. o. t. M. is more agreeable. Red fruits: most definitely. Raspberry. Cherry. And the like, all here. You wouldn't mistake it for a sophisticated one, especially with the tannins and higher alcohol content which might turn away some. The upside is that it adds structure, and by no means is this a flabby wine.
For the price, easy to recommend. I'm not so sure in 10 years we'll be able to get this kind of Sangiovese out of Northern California for under $20. Think of this as a Google beta discount of sorts. Get in early I say, and "check out what pure joy looks like."
Note: perhaps the only thing more frustrating than the '04 Cuvée de La Luna is the Valley of the Moon web site… equally mysterious! Each bottle they produce is represented by a silhouette. Only after clicking on each of the 12 varietals can you tell which is which. Slow going, and one more reason why I just think there is some bark at the moon craziness going on.
Stark Sips
2004 Valley of the Moon Sangiovese (Sonoma County)
Glen Ellen, California
85% Sangiovese, 10% Merlot, 3% Barbera, 2% Syrah
16 months French oak
3,198 cases
14.5% alc.
86 points, $19
valleyofthemoonwinery.com