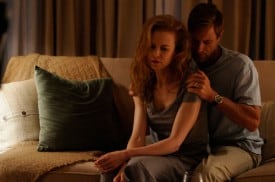 Lionsgate (NYSE: LGF) and the Mill Valley Film Festival announced today that they will feature Rabbit Hole, starring Academy Award winner Nicole Kidman and Aaron Eckhart, directed by John Cameron Mitchell (Hedwig and the Angry Inch)  on Saturday, October 16 at 4PM at the Smith Rafael Film Center in San Rafael, CA. Mitchell is set to introduce the film.
The film is about a husband and wife who fight to save their marriage after the deepest form of loss. It's a vivid, honest and unexpectedly funny portrait of a family searching for what remains possible in the most impossible of situations.
Rabbit Hole is adapted by David Lindsay-Abaire from his Pulitzer Prize winning and Tony Award nominated play of the same name, and produced by Leslie Urdang and Dean Vanech for Olympus Pictures; Nicole Kidman and Per Saari for Blossom Films; and Gigi Pritzker for OddLot Entertainment. The play has recently been seen on Bay Area stages at productions by the Coastal Rep Theatre in Half Moon Bay and Palo Alto Players.
Rabbit Hole made its world premiere at the Toronto International Film Festival on Monday, September 13. Lionsgate plans a Winter 2010 release. The film is the first release from Kidman's Blossom Films.
Early reviews have been strong, many praising Nicole Kidman's performance, suggesting it could even garner Academy Award attention.
Presented by the California Film Institute, the 33rd Mill Valley Film Festival runs October 7–17, 2010 at the CinéArts@Sequoia (25 Throckmorton Avenue, Mill Valley), Christopher B. Smith Rafael Film Center (1118 Fourth Street, San Rafael) and other venues throughout the Bay Area.
"For the last 33 years, the California Film Institute's Mill Valley Film Festival has made San Francisco and the Bay Area a destination for tourists, film enthusiasts, and filmmakers from all over the world to celebrate outstanding cinema. As a result, Bay Area residents are able to enjoy this world-renowned festival, which highlights our region's film talent and includes the Children's FilmFest in support of San Francisco's schools." – Mayor Gavin Newsom, City of San Francisco
Tickets for RABBIT HOLE are $10 and can be purchased at www.mvff.com.
Rabbit Hole

Screening:
Sat. Oct 16th, 2010 @ 4:00 PM – Smith Rafael Film Center, San Rafael, CA

Nicole Kidman and Aaron Eckhart turn in poignant, fully realized performances as a couple coping with grief in David Lindsay-Abaire's cinematic adaptation of his Pulitzer Prize-winning play. Becca and Howie Corbett are diligently putting their lives back together eight months after an unthinkable tragedy. Their grief reverberates across every waking moment, in circumstances both unavoidable—group therapy sessions and Becca's palliative conversations with her well-intentioned mother (Dianne Weist, 2002 MVFF Tributee)—and mundane—selling their house and even tending the garden. Director John Cameron Mitchell creates a mood of earnest suburban formality, which is a departure from the subversive tendencies of his earlier work (Hedwig and the Angry Inch, Shortbus). But Rabbit Hole is no less visceral. While its subject matter is serious, the film is generously infused with humor and vitality, painting a portrait of a couple in mourning that is both rich and deeply resonant.

Directed by: John Cameron Mitchell
Producer: Leslie Urdang, Dean Vanech, Nicole Kidman, Per Saari, Gigi Pritzker
Screenwriter: David Lindsay-Abaire
Cinematographer: Frank G. DeMarco
Editor: Joe Klotz
Cast: Nicole Kidman, Aaron Eckhart, Dianne Wiest, Miles Teller, Tammy Blanchard, Sandra Oh