Som
etimes you just go with crowd. Kindle is the number one selling item on Amazon and has received more 5 star reviews than any other product sold on the site. It's easy to see why. The third generation Amazon Kindle, released just a few weeks ago, refines CEO Jeff Bezos' vision of an uncompromising e-Reader, and makes it even more affordable with the Wi-Fi model starting at only $139 (note: Amazon is sold out until mid-September, but you can pre-order now to secure a spot in line). In short, it's a winner.
Fans of the Amazon Kindle are loyal and passionate. They excitedly talk about number of "locs" read (e-Reader parlance for number of pages), share passages they've highlighted from digital books, and, most importantly, appreciate the purity of the experience. Single purpose in mind, Kindle is all about reading. Those that love apps, surfing the web, social networking, and gaming, please click through to the Apple store for an (also excellent) iPad. But if what you want to do is read … and read some more, then the Amazon Kindle is the best choice out there today.
So how good is Kindle 3, and how's the experience of transitioning from paper to digital?
We received a Wi-Fi ($139) model last month on August 27, and immediately put it to the test (More: Amazon Kindle series).
The Kindle display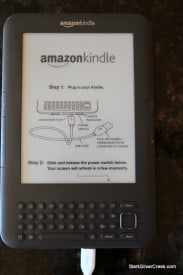 The simple, brown packaging was understated in a UPS sort of way. Open the box, and you're greeted by the dark grey digital reader. A sticker on the screen tells me to plugin. So I do just that using the enclosed power adapter/USB cable.
Then I decide to remove the sticker. But I can't find the edge to strip it off. Then, moments later after a brain hiccup: Ah Ha! Followed by a Matrix-like Whoa! That's the screen! Yes, it's that good. The message that I thought was printed on a sticker was in fact the Kindle display. I examined it closely. The text was crisp, completely absent of any flicker, and contrast ratio appeared excellent (it's 50% better than previous models). Turns out e-ink looks a lot like … well, ink. Very impressive, and unlike anything I'd seen before. (More: Amazon Kindle 3: Unboxing, first impressions).
Kindle is perfectly readable in daylight. However, you will need external light when it gets dark.
In the hand, Kindle feels svelte and solid. It's light (8.5 ounces) and can be easily held in one hand; at times it may feel like you're holding half a paperbook. Of course, now you don't need to worry about crimping the spine to straighten the pages.
Set-up
I slid the small power switch at the bottom right edge and Kindle came to life. In short order I was reading the user guide on the device. Gadget guy that I am, the small physical user manual rested, neglected, next to an empty bottle of Artesa Chardonnay on our sideboard.
Configuring wireless was a breeze, as is the case with most consumer electronics these days. I clicked the "menu" button and chose settings. From there I selected our network and entered the password. A small Wi-Fi icon and signal bars indicated it was connected.
The Kindle keyboard
Typing on the small chiclet keyboard at the bottom can be a chore. Keys are spaced close together, especially the arrow pad which is adjacent to the "back" and "menu" buttons.
If you have big fingers expect to make several typos before you get the hang of pecking at the tiny keys. Still, recall we're talking about reading here, not writing–the keyboard is adequate for entering short search phrases, and simple navigation.
Buying a digital book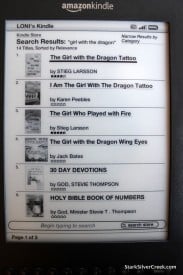 Kindle Store is a fun place to visit, especially if you like choice. Take your pick: magazines, blogs, newspapers, and, of course, books–about 700,000 titles. A summary screen on Kindle gives you easy navigation options to peruse. You can also search. Recommendations at the bottom provide that warm fuzzy Amazon shopping experience we've all come to know and love (that's what $24 billion of it looks like).
Books are typically priced at $7-10 each. Magazines $1-3 (weekly/monthly) . Newspapers $10-20 (daily). And don't forget, there's always that legacy library of free, pre-1923 books that features over 1.8 million titles including Pride & Prejudice.
Content is seamlessly delivered via "Whispernet" using Wi-Fi or Sprint's 3G network.
My wife wanted to read the hottest title on the planet, The Girl With the Dragon Tattoo, on an upcoming trip. So I enter the first few words into Kindle, and press enter.
Almost instantly I see a page with the results. Larsson's provocative page turner is right at the top. I click on it, and just like the Web-based version of Amazon, can read more product information, including reviews. The Kindle Edition costs $6.77.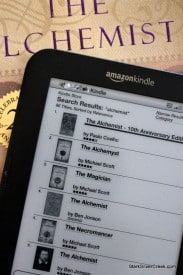 One thing to watch for when you buy books on Kindle is the lack of shopping cart. Those accustomed to a multi-step buying process might be surprised to discover a purchase made with a single click of the buy button.
Kindle comes already connected with the Amazon account used to purchase the device. You may also be surprised how much it already knows about you. It can be "deregistered" if you'd like to configure a different account.
In a matter of seconds after buying the book, it appeared on the main screen of Kindle with a small "NEW" icon. Amazon states that most downloads happen in less than 60 seconds. At least on this occasion the process felt easily within range. Presto, a 480-page book in your hands, without the weight. The cover, however, with its swirling yellow and green dragon motif, looks somewhat unimpressive on the greyscale display.
(More: How to buy a book on Amazon Kindle)
Reading a book on Kindle
Okay, yes, enough pre-amble. The really important question: What is it like reading a book on the Amazon Kindle?
In a word: awesome.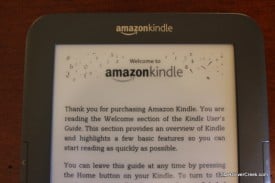 Is it the same as reading a paperback? Very close, with some nuances that you'll either appreciate or need to acclimatize over time. For example, each page turn is accompanied by a somewhat distracting flashing of the screen. It's less than a second, but at first it might seem odd. Apple iPad, by comparison, simulates a page turn. After a few days of use, my wife told me she likes it and it feels like a natural "refresh" — akin to turning the page in a real physical book.
Slim and tall directional buttons to move forward or backward are located on either side. They operate easily with a thumb. Unfortunately, they audibly click when pressed, which can be a minor nuisance for your partner during those late night marathons.
Eye fatigue should not be an issue with Kindle, at least not any more or less than a paperback. A huge advantage is the ability to change font size (8 settings), typeface (regular, condensed, sans serif), line spacing (small, medium, large), and words per line (fewest, fewer, default). Imagine, all without having to re-print! What would Gutenberg think?
Along the bottom a horizontal bar indicates your progress. Here's another adjustment when transitioning from paper to digital: there is no such thing as pages, only "locations." I'm guessing this is a result of the number of pages varying depending on the aforementioned font settings. A large font will make a book very long, a tiny font, obviously, shorter. So, instead, "locations" is used.
When you're done reading, simply put Kindle back on the nightstand. It remembers your spot without having to manually bookmark. In addition, thanks to Whispersync, your location is automatically synced with any other devices that you may be reading the book on (laptop, or smartphone such as a Droid or iPhone). A screen saver, showcasing famous faces of literature, soon appears and remains always-on. A whimsical feature. Although I wish there was an option to display the book cover as well–queue Harvey Fierstein, "Tradition!"
Kindle Extras
Despite its simple looks, Kindle has a surprising number of clever details.
A text-to-speech option will read a book aloud. In practice it's slightly robotic, and I can't imagine using it for long. It's unlikely to replace audio books any time soon (although I can see them eventually integrated into downloaded e-Books).
"View Popular Highlights" shows you what other readers are marking as interesting passages in a book.
"Add a Note or Highlight" allows you to mark up your book in the same way you would a paper edition.
"Collections" allow you to organize your virtual bookshelf (which may come in handy given its ability to store up to 3,500 books).
You can email PDFs to your own, personalized Kindle email address (name@kindle.com). The documents will appear shortly after conversion. Note, on my tests at least, PDF rendering was mixed at best. In many cases the font was such a light shade of grey, for instance, that it was difficult to read an annual report.
An "Experimental" menu provides access to "prototype" features. In addition to text-to-speech, here you can load a web browser or play MP3s. For web browsing, let me suggest not to bother. It's tedious and brings out the worst in Kindle.
Regarding battery life, here's a device light-years ahead of most mainstream consumer electronics. It will go for months. Indeed, in our testing so far, we've yet to recharge it and the battery is still at 35%. That includes at least one cross country trip, finishing a complete novel, surfing the web, browsing the Kindle Store, and skimming several sample books and documents. Plus, it was never fully charged to start. A strong showing, and another key advantage over standard tablet PCs.
On the downside
Still there is room for improvement. As I mentioned I'm not sure why Amazon can't design quiet buttons. The clickiness, depending on your reading environment, can aggravate.
As far as I can tell, you can only have one account stored. I wasn't able to switch between my Amazon account and my wife's without having to re-enter all the user credentials. Then again, I'm quite certain Bezos would prefer we all buy separate Kindles.
Magazines and Newspapers look better on the Apple iPad. Many images, tables and graphics simply don't render at all, or look less than appealing on the Kindle.
The keyboard, with its tiny buttons and awkward layout could use a re-do.
Like a traditional book, Kindle needs external light when it gets dark.
Conclusion
Kindle rules the e-Reader market for good reason. It's the best device available today for a pure reading experience, and now comes in at a very reasonable $139 (or $50 more for 3G). Amazon has refined the formula, and their prowess shows. The third generation model is lighter (by 17%), sleeker (by 21%), features an improved e-Ink display (50% better contrast) and seemingly goes forever on a single battery charge.
Best of all, it does exactly what it promises: offers an unparalleled digital reading experience.
No doubt, Amazon will continue to innovate. It's not hard to imagine a day when these will be almost free; say, when you buy 6 digital books for example. Marketing possibilities are endless. A "Halloween" edition Kindle could come pre-loaded with classic horror novels. Academic editions could come pre-loaded with the best in biology, sociology, accounting, etc.
Down the road, we'll see flexible e-Ink displays that can be folded and rolled just like a newspaper. And soon I'm convinced we'll get the perfect hybrid device that offers the best of the iPad (high resolution, color touch display) with the best of the Kindle (high contrast e-Ink). Until that time you'll need one of each.
For reading purists, however, the Kindle is a dream come true. Travel light, and enjoy a never-ending treasure trove of content, always available 24/7 at your fingertips. Yes, in the words of Jules Verne, "liberty is worth paying for."
Amazon Kindle 3
4.5 out of 5 stars

Buy: Amazon

Good:
Stellar, high contrast e-ink display. Huge selection on Kindle Store. Light, easy to hold. Happy in the sun. Price is right.

Bad:
Clicky page-turn buttons. Tiny keyboard takes practice. Disorienting flash when turning pages. Needs external light.

Clint says:
For reading purists the Kindle is a dream come true. In the words of Jules Verne, "liberty is worth paying for." That it's so inexpensive is Bezos magic.
Photo Gallery: Amazon Kindle