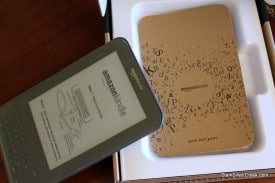 (UPDATE: We've had Kindle 3 for a day. After you've read this, and dug through all the photos, check out Amazon Kindle 3: 7 Features To Die For)
The new Amazon Kindle 3, lighter, smaller, but just as powerful as its bigger sibling has arrived at SSC. A non-descript box arrived at our offices, and I immediately grabbed the T2i and shot some un-boxing photos.
What immediately impresses is the screen. Initially I thought the welcome message on the device telling me to "Plug in your Kindle" was a sticker. I tried to peel it off, but couldn't find an edge to pull back.
Then, I realized–Oh!–it was the 6-inch screen itself.
When it comes to a dedicated reading device, it's hard to imagine a better display. It's crisp, easy to read. Plus the contrast is good too, although I'll have to weigh in on reading on the Kindle after we've put it through its paces for a few days.
Set-up is a snap. Plug in the adapter (micro-USB) to a power outlet, slide the switch at the lower edge, and it fires up rapidly. A welcome message appears, and the would-be "sticker" fades away into the halls of unboxing fame, forever lost and always remembered. I entered our wireless password and just like that it was connected. A push of the "Menu" allowed me to visit the Amazon Kindle store where browsing is a snap using the four-way direction pad. After becoming accustomed to Droid and so many recent touch screen interfaces such as the iPad, it's tempting to want to tap the display with your finger.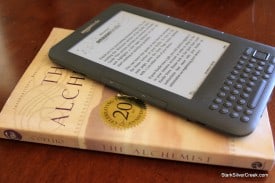 The size feel just right; it's like holding one side of a slightly larger than average paperback.
I like that Amazon has included page turn buttons on either side of the display. Conveniently, the button to move forward is vertically longer than its back counterpart, which sits just atop.
And why no touch screen?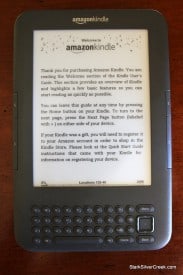 In an interview with Charlie Rose, Amazon CEO Jeff Bezos said, "It adds glare. The first thing that you do when you add a touch display is that you add a little extra layer of glass or plastic and a little bit of glare. So it's very easy from an engineering point of view to add a touch screen but it's not the right thing if you're making no compromises and that's our point of view on this. We want a device that's for uncompromised reading and guess what?  Our approach is working."
I agree; and it's hard to argue with a runaway sales success. My first impressions are extremely positive.
I can see why those that read a lot, would prefer the Amazon Kindle, over the Apple iPad, its most obvious competitor. Kindle works well outdoors in sunlight and at the beach, both common places to read. iPad, however, works well at night, whereas the Kindle requires a light.
Obviously, if you want to surf the web in color, run Apps, play games, write emails, and catch up on social networks, then the iPad is it. But for people who love to read, the Amazon Kindle 3–especially at only $139–is a superb choice.
What: Kindle Wireless Reading Device, Wi-Fi, 6″ Display, Graphite – Latest Generation
How much? $139 (from Amazon), also available with 3G for $189
Improved: Smaller, lighter, less expensive, even better display
Great for: Reading! (books, magazines, newspapers, blogs)