Lessons learned: love does conquer all, and no one spins a tale better than Disney. In the latest touring Broadway show to hit San Francisco courtesy of SHN, Disney's Beauty and the Beast, based on the smash-hit animated feature, charms and wows. While Gasto flexs his muscles, the production unleashes the magic that a large budget can bring: lavish costumes, multi-layered sets, elaborate lighting, fearsome wolves, and a rich orchestral score. All of it comes together effortlessly in a musical that is well-honed.
As they say, the tale is as old as time. There are no twists here, or sophisticated sub-plots involving time travel. Instead we have a classic love story, set against the backdrop of a small town and a dark, yet enchanted castle in the middle of a bloodcurdling forest.
The beauty, Belle (Liz Shivener), is a bookworm and her intellectual ways make her a bit of an outcast; although ladies man–with the Gavin Newsom slicked hair–Gaston (Nathaniel Hackmann) is expectorating they will wed ("We are the perfect pair, just like my thighs").
Meanwhile, the Beast (Justin Glasner) lives in purgatory, controlled by a spell as punishment for his unkindness.
Is love more than skin deep?
Well I don't think I'd spoil anything here by saying… and they lived happily ever after. But not before the audience is treated to some twenty musical numbers, several clever special effects, and plenty of jocular fisticuffs.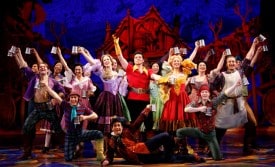 The castle misfits are particularly entertaining. Mrs. Potts (Sabina Petra) as a teapot, Cogsworth (Keith Kirkwood) as the clock, and Lumiere (Merritt David Janes) as the candle, exchange one liners, dream of being human again and lead some colorful ensemble pieces.
My favorite part of this edition is the set. It's like an ornate, lovingly wrapped Christmas present; layer upon layer unfolds to reveal a forest, a town or a castle. Later, rain cascades as we see Gaston and the townspeople with torches in hand, march on to the enchanted castle. Those disappointed with the set of Fiddler on the Roof seen earlier this year (does it matter when you have mega-charisma in Harvey Fierstein? review) will feel like happily clanking their beer steins. Score one for the Cherubs, Nymphs and Centaurs.
Although the music in Beauty and the Beast doesn't particularly standout, the orchestra brings the Golden Gate Theatre alive with magnificent tone–when the Beast finally does a David Copperfield-like floating spin, and turns into a Prince, the orchestral flight evokes the dreams, the wonders. Once again, Disney goes straight for the heart.
Nathaniel Hackmann is a standout. He plays Gaston with likable swagger. At full-on Bravado, he struts, flexes, and prunes as a harem swoons. He was the best performer on this opening night, and commanded attention with every smirk and guffaw.
Not everything is perfect. Unfortunately, for a musical, the singing was underwhelming. Liz Shevener had a particularly difficult time with "Home." The pitch wasn't tight and high notes were occasionally shrill. Maybe it was just opening night jitters, by "Change In Me" she seemed just as comfortable as her character, once again surrounded by loved ones in her home town.
Belle's father Maurice (Christopher Spencer) is a lost opportunity for larger than life manic energy–i.e. in the vein of Christopher Lloyd as the crazy scientist in Back to the Future. But Spencer is too laid back, too soft. And the chemistry with Shivener was disappointing.
In the end, this is a fine, high caliber production. Several times throughout you could hear children in the audience  laugh or scream with delight. A warm glow enshrouds the theater by the final scene (no doubt helped by rose-overload) and we can't help but feel touched that love indeed is more than skin deep.
Disney's Beauty and The Beast
SHN – Golden Gate Theatre, San Francisco
3.5 out of 5 stars
Music by Alan Menken
Lyrics by Howard Ashman & Tim Rice
Book by Linda Woolverton
2 hours, 30 minutes (with intermission)
Through August 29, 2010