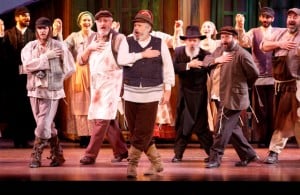 His name is above the marquee. And just about everywhere else. There is no escaping, Harvey Fierstein is the star of Fiddler on the Roof.
It's reaffirmed the second he saunters onto stage, part Russian Santa, part Fred Flintstone, part Dom DeLuise. Plus, that voice! If you just landed from outer space, you may wonder who cracker barreled Donald Duck's voice into his Luciano Pavarotti sized frame.
To see such a pro, such a talent is an experience not to be missed. Unlike most stars of stage, he doesn't grab the spotlight with dramatic motions, enraptured voice. Feirstein is the spotlight. It comes with starts, sputtering, measured clumsiness and 110% heart. His performance had the opening night crowd in the palm of his hand, and we loved every second.
Opening night at the Golden Gate Theatre in San Francisco was an electrical evening of laughs and family entertainment.
The 1964 Broadway show is, of course, now a classic. It's the fourteenth longest running of all-time. Based in Russia in the early 1900s, Feinstein plays poor Tevye, a milkman barely eking out an existence. As if his cow doesn't already give him enough trouble ("If he can walk on three legs, why can't I walk on two!"), he has his steely wife in Golde (the superb Susan Cella) and five blossoming daughters to contend with. The three elders want to get married, almost all at the same time too.
Although Tevye sees himself as a tough, man of the house, he's really just a giant softy.
To life!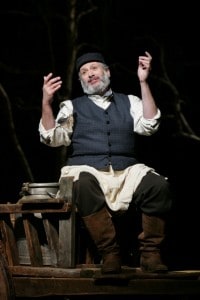 This play has tremendous heart. And it's partly the reason I suspect it endures. The story is simple. There are no twists and turns. We don't need to follow multiple story lines or get caught up in subtext. Fiddler on the Roof is pure Broadway entertainment, from start to finish. And that's great since it gives Harvey Fierstein line after line, scene after scene, of rip-roaring material.
His ongoing dialog and petty diatribes with God generate some of the most amusing results (satisfyingly ironic given Harvey Fierstein's admitted atheism): "I know, I know we are the chosen people. But once in a while, can't you choose someone else?"
If you want to see what big Broadway-like money can bring to the stage, see Fiddler on the Roof. It's certainly a well-oiled machine, and, yes, merchandising is in force. But you see the budget: the gorgeous sets, elegant costumes, professional acting, singing and dancing. The live orchestra really adds pop too; rich and lush sounds and accompaniment.
Amazingly, the show still feels fresh. You might think after 47 years, the material would show age. But like The Sound of Music, The Wizard of Oz, it's another tale that stands the test of time. A lot of that has to do with its human insights, especially into parenting. And dreams. After all Tevye just wants to be a rich  man.
In the end, his daughters are married, but not without trepidation. Time are changing, and the townspeople are evicted. The family packs their things, say some painful goodbyes, and then Tyve picks up the cart, and they head into the dusk.
There are some minor hiccups. The show seems a bit long. The wedding scene is sombre, and dull, although only in comparison to the quality of everything else. Minor supporting roles could use stronger acting. And the story is flat-out basic. Then again, you don't go to Fiddler on the Roof for a cerebral deep dive.
Go to this show to see Harvey Fierstein, a man on top of his game. Now I completely (without a doubt!) understand why his name stands large, towering above everything else. Because on stage, he does just that.
Fiddler on the Roof
SHN SF, Golden Gate Theatre (San Francisco)
4.5 out of 5 stars
Starring Harvey Fierstein, Susan Cella, Mary Stout, David Brummel
Directed by Sammy Dallas Bayes
Through February 21, 2010
Noteworthy

Uncouth: yes, I know, shame. But it's true, I admit it: I've heard Gwen Stefani's Rich Girl so many times, which uses the chorus from If I Were a Rich Man, it took me a second to adjust to Harvey Fierstein's gravely, baritone rendition.
For every $1 invested in the 1964 production, investors received $1,574.
The sight lines at the Golden Gate Theatre aren't the best; you're at the mercy of the people in front of you. On this night, Loni especially had to carve a tunnel between a few basketball players to see a sliver of stage.