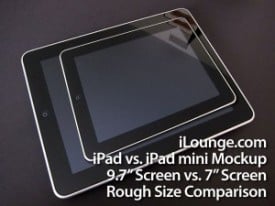 Lots happening in the world of tech today, so here's a roundup of the most exciting items (at least according to this humble narrator). Companies making headlines include RIM, Apple (of course), Asus, Microsoft, Facebook (of course), Adobe, and even Barnes & Noble–there's more to Barnes & Noble than just Barnes and Noble, you know.
Is RIM on the ropes? Their latest handset, the Torch, came out to middling reviews. Now RIM is already discounting the thing at a torrid pace. Now only $99! Not a good sign. You don't need a crystal ball to predict weak sales. In an increasingly touch-based UI world with slick Apps, RIM is starting to look a little bit gimpy. Still, they are #1 in market share… but if their execution continues to falter, expect a new leader soon.
You love iPad, how about a low-cost, 7-inch version? Rumor today is that Apple will release a smaller iPad just in time for the holidays. Sounds like a winning formula. More portable, lower price. If you thought 2010 was the year of the Tablet PC, just wait for those Christmas lists to hit.
Speaking of iPad, Asus has stated publicly that the Apple beauty is beating up its poor little netbooks–the previously sexy, now largely forgotten plastic toys. Trust, however, that the Tawainese giant won't take it sitting down. Just like they did with the netbook market, Asustek plans to release a mind-blowing, overly-confusing array of Tablet PCs including ones that run on Windows and Android.
Microsoft has tried to keep the headlines rolling this year. It's been tough. Apple, Google, Facebook and Apple and …  Apple … seem to have the press blanketed at all times. For some reason, Microsoft Office updates don't have the same wowser factor of yesteryear. So what to do? Games! Microsoft's early positioning for its long-overdue, next generation mobile OS, Windows Phone 7, is all about the games, and Xbox integration. Not a bad idea. So far 50 games are planned for the Q4 launch… if it happens… and if everyone hasn't already bought an Apple iPhone or Google Android smartphone.
See what happens when you "dislike" something? Facebook is all about the love, not the hate. Turns out that new "dislike" feature was, just like that HPOA, a spammy hoax. According to PC World: "Like many scams on Facebook, the "Dislike" button succeeded because people are gullible." Yep. Same reason why Twitter succeeded. PCW goes on to explain how to spot these types of scams.
Poor old Adobe, bruised and battered by bully Jobs, is quietly rolling out Flash capability to smartphones. So far, Android 2.2 users are in luck. Google Nexus One is the first to be able to install the new App available on Android Market that enables flash viewing with the native web browser. In addition, ADBE announced that the slick Adobe Air (most noted for powering Desktop Twitter clients everywhere) will hit Android by year's end.  Meanwhile, Vimeo today announced an HTML5 version of its embedded video player so it can run properly on Apple devices. Why all the bother? It's a simple formula: more eye balls + more ads = more money.
Barnes & Noble, desperately trying not to be left out of the eReader race, has updated Apps for iPhone and Android-based smartphones so you can read on-the-go. But why would you do that when you either already own an: (1) Amazon Kindle; or (2) Apple iPad?