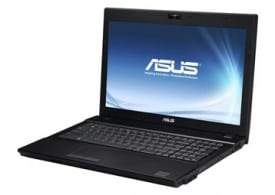 Apple iPad continues to leave an impression. In the case of Asus, the manufacturer that started the Netbook revolution, it's not exactly a positive one. Asus experienced a drop in sales of its Eee PC netbooks in the second quarter of the year, and the iPad was cited as a primary reason. Profit was also down, 17.9% Q/Q.
Who said keyboards are important?
"Because of decreased shipments of motherboards, notebooks and netbooks, Asustek's financial performance for the second quarter declined on quarter," said Asustek CEO Jerry Chen. "Asustek will continue to offer Eee PCs and will step into the tablet PC segment with its Eee Note and Eee Pad series."
Like hoards of others, Asus too will step into the tablet arena. It plans to introduce an Android-based tablet in the first quarter of next year. According to their product roadmap, three of the next four products will be tablet PCs. Makes sense: A Morgan Stanley/Alphawise study conducted in May showed that 44% of U.S. consumers who planned to buy an iPad were doing so in lieu of a netbook or notebook PC.
Choosing Android is likely a good move, as is the shift away from netbooks which appear to have seen their day in the sun. Android, the mobile operating system by Google, has taken the smartphone market by storm. Now, the question is: can Android take on Apple's iPad juggernaut in the tablet space? Most likely, yes.
Although I–along with many others in the tech press–believe that iTunes is a strategic advantage when it comes to content, the open-source model employed by Google provides undeniable strength in numbers; why rush the turret alone, when you can employ a horde of warriors?
However, Apple has at least a 6-month head-start (3 or 4 lifetimes when it comes to tech). That's a lot of time to get cauldrons of boiling oil ready to dump on unsuspecting attackers.