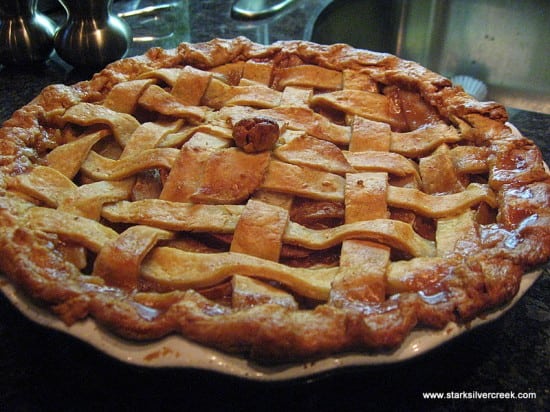 I created this apple pie about nine years ago and since then have adjusted the recipe, perfecting it with each version. It canonized about three years ago, reaching what I consider to be perfection. Since you may be craving for  something other than pumpkin pie right about now, I thought I'd share it.
You'll love this recipe if you:
don't want to spend hours laboring over a "home-made" apple pie
love apples and hate to see the taste cluttered by too much sugar-sweetness
So here it is…

LONI'S "EASY AS PIE" APPLE PIE RECIPE


Ingredients:

6-7 medium/large granny smith apples. You can use with types of apples, but I like the balance of tartness and sweetness that granny smith apples provide.
2 tablespoons of brown sugar.
2 tablespoons of all-purpose flour
1 teaspoon of cinnamon
1/4 teaspoon of salt
1 teaspoon vanilla extract (I just eyeball this)
1 tablespoon of unsalted butter
2 tablespoons of cream or half-and-half
2 ready made pie-crusts. You can make your own crusts and I have in the past. I found for the level of effort and the results, it just wasn't worth it. I like using Trader Joe's pie crusts as I find it has a great homemade taste. The filling on the other hand is a different story, great gains are achieved by insourcing.
The finished result will be a 9 inch pie. I always use my favorite and only Emile Henry red pie dish.
I've included instructions and photos on the following pages. Warning, hunger may ensue!