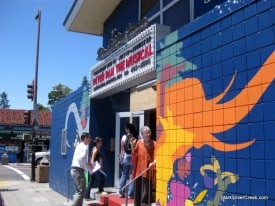 I'm pleased to announce that we've added four Bay Area theater and stage venues to the SSC Theater & Arts Guide: Broadway by the Bay (Redwood City), EXIT Theatre (San Francisco), Intersection for the Arts (San Francisc0) and Marin Theatre Company. With today's update the guide now actively includes 30 venues and theater houses across the region. Still a drop in the bucket, yes. But we're working as best we can to expand coverage to as many places as we can humanly cover. Our goal is to help non-profits have their voices heard; to help ignite passion within the community for the stage and live events; and to help promote culture and the arts wherever and whenever possible.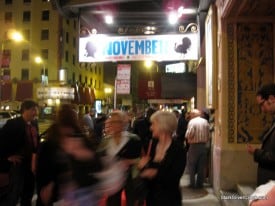 On SSC, we cover several topics including food and wine, travel and gadgets and tech. All things we're passionate about. But I'm most proud of what we've accomplished in the theater and arts space, as it's of tremendous personal interest to me, and I think also for the others who generously donate their time to cover events, and contribute articles.
It was March 2009 when the San Jose Repertory Theatre invited us to a little production called The Kite Runner. It was brilliant. We covered the show. Interviewed the cast in a series of videos that included one of my favorites, a "combat" demo between actor Barzin Akhavan (Law & Order) and our own Loni ("cupcake").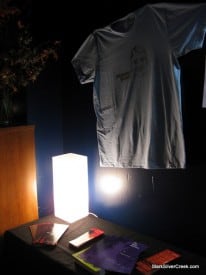 There are some evenings when the whole thing seems impossible. I remember earlier this year, we watched about 4 or 5 tragedies in a row. By Sunday we were in a definite malaise. Please, give me a laugh! Of course, the shows were all enjoyable, and each production gave us the goosebumps when the house lights went down.
Fortunately theaters and non-profits are recognizing the potential in new media, working with web publications such as this one, as well as others. Facebook, Twitter and other social media tools are now being actively used to engage with the audience. This is good news. While there is no magic panacea to the hurt that theaters and others face in this challenging economic environment, there is at least a glimmer of hope.
The Theater & Arts guide is a place where you can get the scoop about what's happening, with a single click. All the headlines are there. At least that's the intent. Content includes reviews, events, announcements, videos and preview pieces. I figure we've got another two years of work ahead of us at least to reach the level of comprehension here that I envision.
None of this would be possible without the wonderful contributions of some truly committed people who donate their spare time to help non-profits and arts organizations get the attention they deserve in this evolving world of media. Thank you again to:
Patricia Reardon
Al Graichen
Eugene Lee
Cy Ashley Webb
Jane Lurie
Cynthia Corral
If I had a medal, I'd present it to you. For now please accept this brief note of thanks, and a few Tweets of praise. And an SSC corkscrew.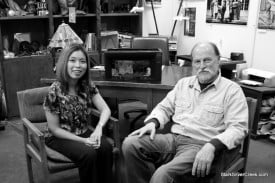 On the logistical front, if you're from a theater and don't see your venue listed in our guide, please reach out to us with your information. Note that we update it about once a quarter, although I'm trying to do better. Also, while we want to cover everything, the reality is it's impossible. So we're aiming for the greater Bay Area which includes Berkeley over to San Francisco/Marin, then down to San Jose… and just about everywhere in between. It's about 6 million people, a large market. And these last two years, we've worked harder than ever (although paling in comparison to the effort theater staff, artists, actors, directors and volunteers bring to stage a show, usually on a shoestring budget). Loni's Honda keeps on ticking, even though we run it ragged, often just making curtain time. Sometimes, this endeavor feels like an uber start-up… but without the VC funding, or massive off-shore support organization.
The show is the thing.
SSC Theater & Arts Guide: Venues

AMERICAN CONSERVATORY THEATRE (ACT)
AURORA THEATRE COMPANY
BERKELEY PLAYHOUSE
BERKELEY REPERTORY THEATRE
BLACK BOX THEATRE
BROADWAY BY THE BAY
BROADWAY SAN JOSE
CENTER REP THEATRE
CINEQUEST FILM FESTIVAL
CIRQUE DU SOLEIL
CITY LIGHTS THEATRE COMPANY
COASTAL REPERTORY THEATRE
THE CUTTING BALL THEATER
DRAGON PRODUCTIONS THEATRE
EXIT THEATRE
HILLBARN THEATRE
INSTITUTE OF CONTEMPORARY ART (ICA)
INTERSECTION FOR THE ARTS
MAGIC THEATRE
MARIN THEATRE COMPANY
OPERA SAN JOSE
PALO ALTO PLAYERS
THE PEAR AVENUE THEATRE
SAN FRANCISCO OPERA
SAN FRANCISCO SYMPHONY
SAN JOSE MUSEUM OF ART
SAN JOSE REPERTORY THEATRE
SAN JOSE STAGE COMPANY
SF PLAYHOUSE
THEATREWORKS