Tarzan, by comparison, looks so old fashioned. Who needs unreliable vines, when you can have a luxurious steel zip line running across the jungle top? Or as in this case, high atop the Hawaiian rain-forest in the little village of Hawi, on the northern tip of the Big Island. Even John Wayne makes an appearance in this video, which is entirely appropriate since the island is also home to the real fake Elvis.
Loni dons some gear and harness, hops in a Hummer (Tonka Yellow of course!) to see if zip lining is all it's cracked up to be. The first zip is not much, but it does help warm everyone up for the heights to follow.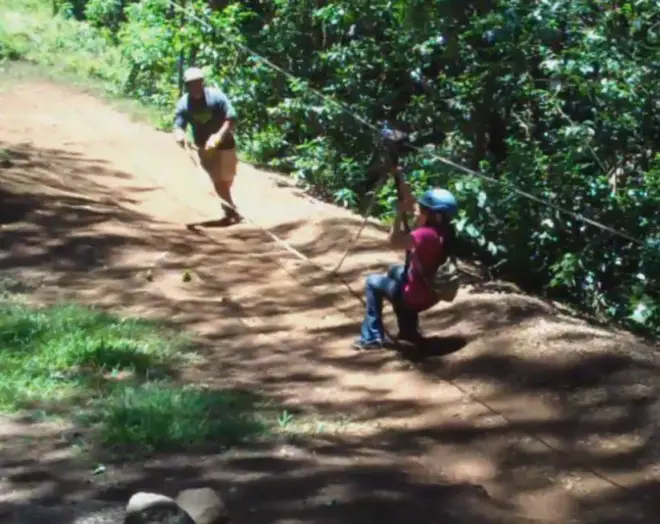 Then "Cupcake" takes on the helicopter move, twirling as she propels, via gravity, to the bottom. But, where's "Goose"? And who's the "Lover" and "T-Bone"? The answers—well most of them anyways—are in this special travel segment shot on location in Hawaii.
A zip-line (also known as a flying fox, foefie slide, zip wire, aerial runway, aerial ropeslide, death slide or tyrolean crossing) consists of a pulley suspended on a cable mounted on an incline. It is designed to enable a user propelled by gravity to traverse from the top to the bottom of the inclined cable, usually made of stainless steel, by holding on or attaching to the freely moving pulley.
Zip-lines come in many forms, most often used as a means of entertainment. They may be short and low, intended for child's play and found on some playgrounds. Longer and higher rides are often used as a means of accessing remote areas, such as a rainforest canopy. The zip-wire is not a recent invention. Referred to as "an inclined strong," one appears in The Invisible Man by H.G Wells, published in 1897, as part of a Whit-Monday fair.
WATCH: Zip Lining in Hawaii