Another round of new shows and events is coming to a theater or stage near you this weekend. So much for a summer slow down! The live scene is alive and well across the Bay Area with action in just every nook and cranny. For this week, I have a potpourri of things to do in San Jose, Mountain View, and Berkeley (and even a mountain top adventure!).
San Francisco? Well, there's always something going on there, stay tuned for more some theater coverage next week from the City; if you're a horror fan, especially with a dose of outrageousness and laughs, then check out SF Playhouse's Slasher before it has its last gasp of air this weekend.
In other news, it's worth pointing out the possibility of art funding being diverted from non-profits as a result of the City of San Jose's budget challenges. For more on that, check out the story 'Arts organizations rally to prevent diversion of funds from non-profits' by Clinton Stark, and learn about how you can help support the arts.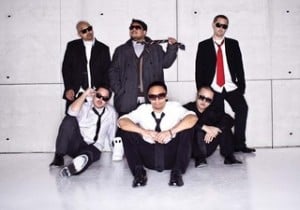 SubZERO Festival
South First Fridays
SoFA district in downtown San Jose
(on South First Street between San Carlos & Reed Streets)
Fri, June 4, 2010 6pm 'til Midnight
Kick off summer with SubZERO, a diy, artistically bent, hi/lo-techno mashup where street meets geek. Come downtown on June 4th to San Jose's SoFA District from 6pm 'til midnight for an inspired evening of arts & culture. In addition to the South FIRST FRIDAYS monthly art walk you'll find an outdor stage of entertainment plus artists, performers & musicians celebrating the indie creative spirit!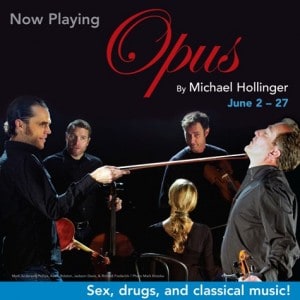 Opus
TheatreWorks, Mountain View
Opens Sat, June 5
An internationally famous string quartet finds both harmony and dissonance in this smart, funny, and compelling study of artistic passion. Forced to find a new member just days before an appearance at the White House, they are caught in a crescendo of talent and personality, their collaboration tested and their art insecure. A behind-the-scenes look at the world of great music, this intriguing "dramedy" proves that making art and living life have many a measure in common.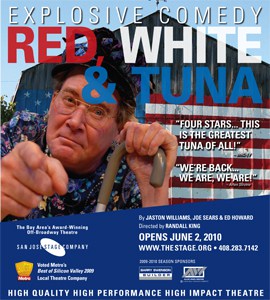 Red, White & Tuna
San Jose Stage
Opens Sat, June 5
The Stage explodes with laughs this Summer in the South Bay Premiere of Red, White and Tuna! The latest bombastic comedy in the Tuna trilogy will sell out, so order tickets now to what critics call "the greatest Tuna of all!" From the creators of the major hits Greater Tuna and A Tuna Christmas, this new side-splitting tour de farce lets the fireworks fly at the Fourth of July Tuna High School class reunuion. As the good people of Tuna say, "WE'RE BACK. We are, we are!"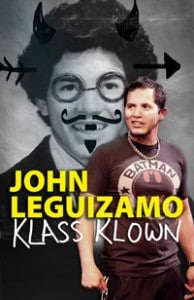 Klass Klown
John Leguizamo
Berkeley Rep
Now playing, to June 12
Emmy and Obie Award-winning performer John Leguizamo thrills audiences as he gets up close and personal in his new, uncensored, uninhibited tour-de-force. Klass Klown explodes with energy in the trademark style Leguizamo brought to outrageous shows such as Freak, Sexaholix and Spic-O-Rama. He takes audiences on a nonstop fever-pitch adventure, heating up the stage with vivid accounts of where he's been and the colorful characters that shaped his life. From his adolescence in New York to the outrageous theatre scene of the '80s to anecdotes about major movies and roles opposite Hollywood's biggest stars, Klass Klown is in turns uproarious and heartfelt. Leguizamo lays it bare for anyone that comes along for the ride.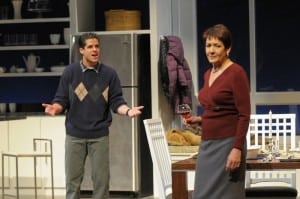 Sonia Flew (review)
San Jose Rep
Now playing, to June 6
To protect their daughter from the Communist regime, Sonia's parents sent her to the United States during the Cuban revolution and she never saw them again. Thirty years later and living in the Midwest, Sonia, a fiercely devoted mother of two, has created a home that embraces her own cultural traditions along with her husband's Jewish religion. Three months after 9/11, their son announces he is quitting college to join the army. Sonia combats grief and terrifying feelings of abandonment through political forces that once again threaten to shatter her family. Can she come to terms with her secret past, her parents' decision, her children's choices and her duty to her adopted country? Set in Minneapolis in 2001 and Cuba in 1961, Sonia Flew questions parental sacrifice, familial responsibility and patriotism in times when worlds collide.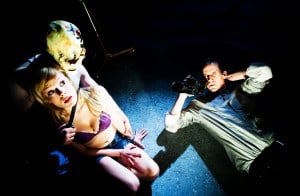 Slasher (review)
SF Playhouse
Now playing, to June 5
When she's cast as the "last girl" in a low-budget slasher flick, Sheena thinks it's the big break she's been waiting for. But news of the movie unleashes her malingering mother's thwarted feminist rage, and Mom is prepared to do anything to stop filming…even if it kills her. The new play was the hit 2009's Humana Festival. You will laugh…until you scream!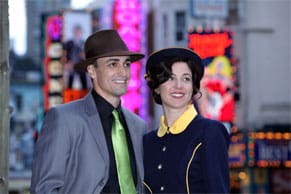 Guys and Dolls (review)
Mountain Play, Mill Valley
Now playing – only 4 more shows! June 6, 12, 13, and 20th.
It all begins with a bet. Nathan Detroit bets high-rolling gambler Sky Masterson that Sky cannot persuade Save-A-Soul Missionary Sister Sarah Brown to accompany him on a trip to Cuba. While the worldly Sky works his charms on a wary Sarah, Nathan is doing his best to stay outside the matrimonial clutches of his long-suffering fiancée, Miss Adelaide.
"Guys and Dolls" is a fable about what happens to gambling men and the women who long to tame them. Set in the colorful world of New York City in the mid 20th century, the romantic and funny "Guys And Dolls" is populated with gangsters and gamblers, missionary dolls and scantily clad showgirls, and one the great musical scores in the history of American theatre. (Frankloesser.com)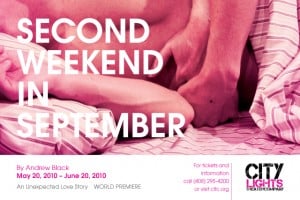 Second Weekend in September (review)
City Lights Theatre Company, San Jose
Now playing, to June 20
After their first clandestine rendezvous in the early 80's, married businessman Michael and college student David embark on a
one-weekend-a-year affair that spans decades. As the years pass, David becomes active in the gay community while Michael stays in the closet and climbs the corporate ladder. In the midst of a rapidly changing world, the two men come to realize that their annual "escape from reality" is quite the opposite, and that the truest part of their life is the second weekend in September.
Let me know any feedback on any of these shows, or please send me any that I might have missed. This is the 3rd largest theater region in the US, so I'm apt to overlook a show or two—our intent is always to cover as much as we can, without going too insane.
As always, check out the SSC Theater & Arts Guide to stay on top of all the Bay Area action, from San Francisco, over to Berkeley, down to San Jose and everywhere in between.
The new math: Twice as fun / half as smart.