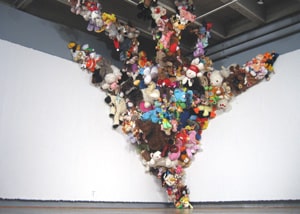 With Mayor Chuck Reed submitting new budget recommendations in just a few days, arts organizations and non-profits across San Jose are reaching out for support to prevent the diversion of funds targeted at non-profits. Called the Transient Occupancy Tax (TOT) grant fund, it is reportedly being "raided" by the City of San Jose to cover General Fund shortfalls. Impact to arts organizations and hoteliers across the city could be substantial.
Organizers state that council member Liccardo has a part of the solution right with his recent Budget Document dated May 21, 2010, which seeks to preserve and restore $268,000 to the TOT for 2010-2011. They need your support and urge you to demonstrate support for the arts and non-profits in San Jose by reaching out to the Mayor and City officials this week.
At a recent speech, Larry Stone, County Assessor, former President and co-founder of Arts Council Silicon Valley, said, "The proposed change could direct a portion of these restricted funds to pay for the City's administrative responsibility. The result could be as much as 25% fewer funds for the Arts."
An email received from the Institute of Contemporary Arts drives home the message: "Taking this funding will result in the loss of jobs, the cancellation of concerts, plays, exhibitions, and festivals, and bring fewer visitors to downtown hotels and restaurants. The losses will be serious and long term for the residents and businesses of San Jose and the entire Bay Area."
So, what can you do? An example letter provided by organizers is included below. Research the issue around TOT funding, and take action by writing in to City Officials. I'm always reminded of an interview we recorded last year with the San Jose Rep's then newly minted artistic director, Rick Lombardo. Describing the tough challenge that theaters, arts organizations and others face, he expressed frustration. The banks received a bailout. So did the auto industry. And, in some ways, I might even add healthcare to that list. But… what about the arts?
In recapping the impact of the dwindling TOT fund, Stone said, "For some arts organizations that could be the difference between surviving and failing."
Larry Stone, County Assessor, former President and co-founder of Arts Council Silicon Valley, and Lifetime Achievement Award recipient at the 2010 Silicon Valley Arts & Business Awards (ABBYs), speaks about retaining TOT funding for the Arts in San Jose.
From ICA Email

Please contact Mayor Chuck Reed and City council members to express your opinion this week. The Mayor's budget recommendations will be delivered June 4, so time is of the essence.

A sample letter is attached for your use. Please email your letter to each of the City officials listed below.

Thank you for your advocacy for the arts in San Jose-we need our voices to be heard.
_________________________________________________

Mayor Chuck Reed: chuck.reed@sanjoseca.gov
Pete Constant: pete.constant@sanjoseca.gov
Ash Kalra: ash.kalra@sanjoseca.gov
Sam Liccardo: sam.liccardo@sanjoseca.gov
Kansen Chu: kansen.chu@sanjoseca.gov
Nora Campos: nora.campos@sanjoseca.gov
Pierluigi Oliverio: pierluigi.oliverio@sanjoseca.gov
Madison Nguyen: madison.nguyen@sanjoseca.gov
Rose Herrera: rose.herrera@sanjoseca.gov
Judy Chirco: judy.chirco@sanjoseca.gov
Nancy Pyle: nancy.pyle@sanjoseca.gov
City Manager Debra Figone: debfigone@sanjoseca.gov
City Clerk: cityclerk@sanjoseca.gov
Sample Letter

Stop Raiding TOT Grant Funding for the Arts

Mayor Chuck Reed
San Jose City Council Members
Debra Figone, City Manager
City of San Jose
200 East Santa Clara Street
San Jose, CA 95113

RE: Stop Raiding TOT Grant Funds Intended for the Arts

Dear Mayor Reed, City Council Members, and City Manager,

The ongoing raid on Transient Occupancy Tax Grant Funding for Arts non-profits has gone too far. City management wrongfully continues to take from this funding source to cover its General Fund shortfall. This raid is counter to the intent and spirit of the agreement with San Jose's hoteliers and arts groups. They supported the creation of this tax to fund the arts not to make up for years of budgeting failures. This raid also amplifies the damage that our fragile arts ecosystem has already sustained due to the recession.

To paraphrase the strong sentiment expressed by Mayor Reed when responding to the State's grab of RDA funds: this most recent raid on TOT funding for the arts is a direct reflection of San Jose's budget failures. Taking this funding will result in the loss of jobs, the cancellation of concerts, plays, exhibitions, and festivals, and bring fewer visitors to downtown hotels and restaurants. The losses will be serious and long term for the residents and businesses of San Jose and the entire Bay Area.

While the Mayor has vehemently denounced the State's actions, the City of San Jose is doing the same exact thing to arts funding. San Jose leadership cannot allow the TOT to be misappropriated in the same way that Sacramento has wiggled its way into the pockets of cities and their most powerful economic development tool.

Council member Liccardo has a part of the solution right with his recent Budget Document dated May 21, 2010, to preserve and restore $148,000 to the TOT grant funds for 2010-2011 and $120,000 for the Arts Express program. We urge you to support his recommendations.

However, we expect you to go further, back to when the misappropriation of these dedicated funds started. We expect you to honor the original spirit and letter of the deal. The arts community wants full restoration of the TOT back to before these funds began to be violated. Poor precedent was set. The time to begin to fix it is now.

Sincerely,

[Your name and affiliation here]