Slasher goes for the jugular, but comes up short. The Bay Area premiere now playing at SF Playhouse succeeds, though, in spilling blood. Lots of it.
If not perfect, for committed horror fans like myself it's still a welcome treat simply because the subject matter is not given much attention on the live stage. Probably, for good reason. Others, though, may find it a bit of a mixed (body part) bag.
Written as a horror comedy, Slasher does deliver the gore, but not so much the laughs.
The premise is classic, self-aware horror, centering on a waitress Sheena (Tonya Glanz) who will do anything to star as "the last girl" in a horror picture. A sleazy director (Robert Parsons) first hires an aspiring AD (Cole Alexander Smith), trading stories about great horror masters such as Tobe Hooper's The Texas Chainsaw Massacre.
Later, he hits up the local could-be-Hooters to hire ingenue Sheena as the star. With hottie in tow, buckets of blood on standby, chainsaws, and even a Psycho-inspired shower stall, the shooting of "Blood Bath" begins.
The only problem is that Sheena's pill-popping wheel-chair bound mother (Susi Damilano) is non-too-pleased that her daughter is participating in an exploitation film that allegedly degrades women.
With the help of the local Holy Shepherd justice league, she mounts a protest that involves more than just signs. Who are the real crazies?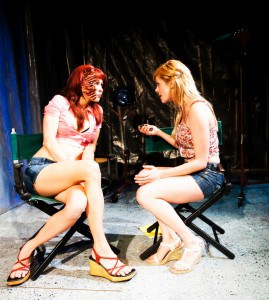 Written by Allison Moore, there are some clever moments in Slasher. When the cast of the film-within-a-play, for example, are taking breaks on set, chilling screams, and chainsaws interrupt their casual conversations.
The tongue-in-cheek scenes that spoof the over-the-top horror movie slasher genre are entertaining as well. Again, mostly I suspect for those who get horror. Casual theater-goers may have trouble relating to the material. Remember I'm a guy that knows Asian, Italian (Argento!) horror inside out, not to mention all of the US classics. Loni leaned over to whisper in my ear mid-way through the play, "this is definitely your thing." And it is.
However, at times Slasher feels very much like the cut-rate horror film it seeks to parody. The ending is an all-out scramble, with blood-soaked actors stumbling across stage, while a half-dressed (I'm not complaining) Tonya Glanz struggles to escape from chains. At one point everyone appears to be either rolling or crawling on the ground. You might say it jumped the shark. It felt a little high school.
By comparison, The Pillowman, which played last year at San Jose Stage was far more gripping, intelligent, and horrifying. It had layers that Slasher doesn't.
To add to the circus-like atmosphere on opening night, the set encountered technical snafus. Kudos, though, to the cast for powering through. In some ways, it pleased my inner Horror crazy. All hell was breaking loose! Lightning, blood, bombs, knives, babes. Bring it on.
Despite the glitches, the set is another winner by Bill English. I was astonished at how quickly it transforms from living room, to movie set, to bar. SF Playhouse is the benchmark for inventive and creative sets in small spaces.
Slasher feels like a cheap stage version of the movie Scream. It doesn't bring anything new to bear, it's shallow and feels a little tawdry. But you know what? That would be a smile on my face at the end. It was still an entertaining evening. Just don't expect some of SF Playhouse's best work. And have an open mind when it comes to blood splatter and beautiful cleavage, please.
Slasher
SF Playhouse, San Francisco
3 out of 5 stars
By Allison Moore
Directed by Jon Tracy
Starring Susi Damilano, Tonya Glanz*, Robert Parsons*, Melanie Sliwka,
Cole Alexander Smith, and Melissa Quine.
Through June 5, 2010