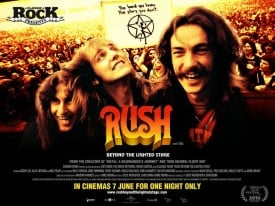 Geddy Lee sounds like Steve Jobs. And he looks a bit like Lennon with a twist of mystical fu-manchu. These were just some of the random thoughts circulating my Walla-soaked mind as I watched—by pure accident—the premiere of the Rush documentary Beyond the Lighted Stage on VH1.
I stumbled upon it last night when I was looking for anything to watch other than the replay of the US loss to Ghana in the World Cup. And I needed a big time break from anything related to wine…at least for a few hours.
Being Canadian, I know the reverence this legendary band holds. Heck, these guys have even been parodied on South Park, perhaps the ultimate stamp of mass approval. Plus the sales numbers, big: 24 gold records; 14 platinum records. Yes, they have somewhat of a loyal fan base, many who have followed the band for their entire 40-year career. Then there was the recent Stephen Colbert appearance that re-introduced the intelligent, hard-charging, 3-person rock group to a legion of new fans.
In University back in Ottawa in the late 80's, though, I was a U2 guy. My rockin' bass-playing friend (and later, band mate), Barry, was convinced Rush was the second coming. So it was October vs. 2112. Or Joshua Tree vs. Presto. Geddy Lee's high-pitched, straining voice (unique is an understatement) annoyed me just as much as Bono's semi-falsetto whine in Mysterious Ways from Achtung Baby annoyed him.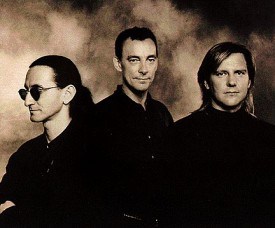 Rush is an acquired taste, but it is well worth the effort. Now I find myself checking their back catalog, and buying-up stuff to put into rotation for the gym (yes, I am still trying to listen to something other than Green Day's American Idiot). Sadly, the only Rush CD I purchased prior to my latest re-discovery was Roll the Bones, widely seen as moving the band too much towards keyboards. Of course, as a former keyboardist (Hit 'N Run!) having hit our career high with a year's worth of shows at Barrymore's each paying exactly one case of Molson, it would only seem fitting I would be drawn into their electronica-oriented material. I still enjoy the 19-year old album today, and am still amused that Rush would even attempt a rap number; these guys never stop innovating, and pushing the musical envelope. Being a compulsive U2 fan, I can appreciate that (Lemon!).
Beyond the Lighted Stage debuted at Tribeca Film Festival. It's a relaxed documentary; never interfering with the story that the music and the band members tell. Neil Pert is nervous and uncomfortable around fans. He continually blows them off. It's nothing personal, Geddy Lee says.
I can also appreciate technical aspects employed by the filmmakers such as the Ken Burns effect used on still photos, which to my eyes at least, never gets old, especially when used atop the searing sonics of 2112 or Permanent Waves.
Although turmoil, insecurities and squabbling never quite reach Metallica-like proportion (Some Kind of Monster), there are enough personal journeys, set backs, and egos to add just enough human drama, without invoking the celtic dancers of Spinal Tap.
Highly recommended.
For another well-made rock documentary, check out Davis Guggenheim's It Might Get Loud with The Edge, Jack White and, the statesman, Jimmy Page. I wonder what Jack Black thinks about those bands. Meantime, for Rush, everything is moving along like Clockwork.