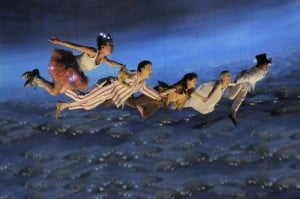 Everything but the kitchen sink gets tossed into the high-tech version of Peter Pan that opened yesterday at Ferry Park in San Francisco. With a 360-degree jumbo video screen and exciting flying acrobatics it should fulfill the dreams of any starry-eyed youngster looking for adventure and thrills. Everything is larger than life including a monstrous crocodile who's roar sends reverberations all the way down the Embarcadero.
This version of Peter Pan has more in common with Avatar than it does with the classic novel by famous Scotsman J.M. Barrie. Perhaps a glimpse into the future of theater and stage?
The main attraction is a large 360-degree projection system that adds dramatic, cinematic backdrops to the action taking place in the round. One moment we're flying across Edwardian London, and the next were submersed into a magical under-water world somewhere in Neverland.
For $30 (starting from; a $20 discount is available on select performances for children under 12) this is thrilling, over-the-top and often jaw-dropping family entertainment. And thanks to the little village Threesixty has built across the Ferry Building it is a wonderful way to spend an afternoon or evening. Bubbly flowed and roses were handed out on this particular day as the sun shone down through dark rosy clouds, hovering over San Francisco.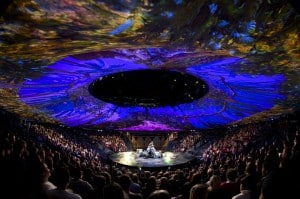 While this production is a tour-de-force in technology and CGI, it is less a demonstration of successful staging. The acting is often wooden, with little momentum or interest created by the leads. Part of the reason, I suspect, is the curious reason to select older performers for the key roles of Peter Pan, Tinker Bell and Wendy. Perhaps it's because they also need to be professional acrobats as well?
Regardless, the screen is the thing. The flying is indeed magical, as are the intriguing puppets.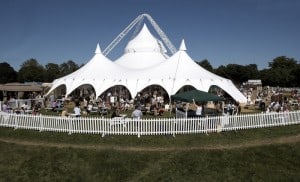 Thanks to the steep circular arrangement, all the seats are good. Vantage points are clutter-free offering a clear view of the often spinning and morphing set.
The magic of this story and the quest for never-ending youth, however, is more computer-centric than human-centric. There are moments where it's cut-rate Cirque du Soleil with a giant screensaver. At one point, Loni leaned over to me and said that it felt like a PS3 video game on an uber screen. Part of the problem is that the show is a jack-of-all-trades: theater, acrobatics,  and musical.
Not that children will care, mind you. As family entertainment it's grand spectacle. The flying is so memorable, so incredible that it alone is worth the price of admission.
Noteworthy

The best production of Peter Pan I've ever seen remains the version last year by Berkeley Playhouse; it had such charm, incredible charisma in its leads, and astounding staging for such a small space.

The roof of the tent is called the Cupola.

This production of Peter Pan comes from Kensington Gardens in London where it was staged last summer, entertaining 200,000 people.

"Imagine looking at a great painting and having that moment where you think 'I wish I could walk right into that right now'" – Bill Dudley on creating the virtual world in Peter Pan.

Animation is filmed at 50 frames per second with a resolution of 11,790,000 pixels per frame.

10 screens surround the audience each measuring 46 x 33 feet each.

The graphics have been rendered on the same 300 computers used for the Spider-Man films.