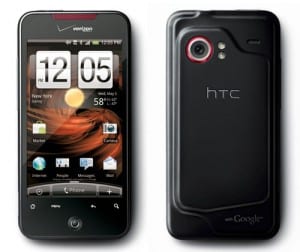 Verizon has officially taken the wraps of its plans to release the new feature-packed HTC Incredible smartphone. Available April 29th for $199 with a two year contract, it runs Android 2.1,  the latest version of Google's increasingly mobile operating system.
Like the Google Nexus One (also manufactured by HTC) the Incredible will feature incredible processing power thanks to its 1GHz Snapdragon processor. Other features include a reportedly gorgeous 3.7-inch AMOLED display, an optical mouse, Sense user interface and 8-megapixel camera.
It might just be the new king of the Android smartphone lot.
With a price identical to the Motorola Droid, is would seem like the better choice, unless you absolutely need a physical keyboard (and even then the Droid's keyboard has received plenty of criticism).
But what really sets this smartphone apart is its slick HTC-designed interface called Sense. Available since 2009, HTC has continually updated the well-reviewed UI which provides built-in widgets for social networking (Twitter, Facebook), calendar, email and several accessories. In addition, Sense enables several customizable home screen panels and themes which gives consumers the ability to give their a phone a unique, personal look.
It's good to see Verizon continue to make a large push with Android-powered phones. In November of last year, they partnered with Motorola for a large marketing splash with the launch of the Motorola Droid smartphone which has been a big sales success. Since then the carrier has rolled out several new models including the HTC Droid Eris, Motorola Devour, and now HTC Incredible.
Another observation: Tawain-based HTC is on fire. The company is flooding the market with handsets, running not only Android, but also Microsoft's mobile OS.