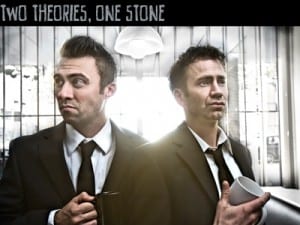 Constant reminder: Sometimes we're not as clever as we think. In filmmaker Aaron Houston's short Two Theories, One Stone two intellectuals discover just that, over breakfast and from the most unlikely of sources. In some ways it's the perfect homage to Quentin Tarantino. Although you'll have to watch it to see if blood flies or if witty repartee is the order of the day, or morning that is.
Since seeing the film, and meeting Aaron I've been wanted to do a podcast interview. Finally we had a chance to catch up on the phone to discuss not only his work, but also the experience of coming down from Vancouver to participate in the Cinequest film festival where Two Theories, One Stone enjoyed a world premiere earlier this year.
Independent filmmakers are no stranger to resourceful marketing. Case in point is the "Douchebag Blend" coffee bag that he handed out to promote the film.
Imagine enjoying a cocktail at Il Fornaio downtown San Jose, and having someone quickly introduce themselves, and pass you a small paper bag with "Douchebag" beneath the picture of two well-dressed, somewhat Kramer-ish looking guys in suits.
It leaves an impression.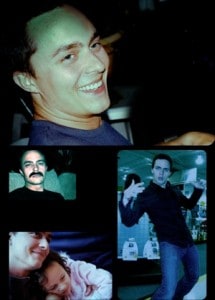 For more on that story, see Indie film marketing: "Douchebag Blend" wins me over Cinequest style.
A man on the go, Aaron has several projects now in production. Listen in as he discusses them, plus, being a fellow Canadian, you may even hear us talk about the Canucks and Sharks, as round two of the NHL Playoffs near.
For more about his work, visit Unpaved Productions.
SSC Presents: Canadian filmmaker Aaron Houston
Discussing Aaron Houston's short Two Theories, One Stone.

Listen now[audio:https://www.starkinsider.com/podcasts/sscpresents/sscpresents-26-aaronhouston.mp3]

The Cinequest Film Festival and the filmmaker perspective of holding a world premiere.
Current projects
Waxing philosophical about the NHL playoffs including the Vancouver Canucks and San Jose Sharks (this section mandated by the CRTC to meet minimum Canadian content requirements)