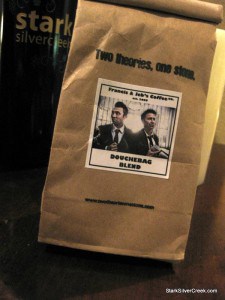 Low budgets combined with passion always seem to bring out creativity and mucho gusto. Tonight at the exquisite Il Fornaio Cinequest soiree, there was much mingling, merriment and celebration for a festival that is going strong.
But what caught my eye on this evening was the distinctive marketing by Aaron Houston, a Canadian filmmaker from Vancouver.
His short, Two Theories, One Stone is in the Cinequest Comedy shorts program (Shorts 7: Comedy Favorites). And the only way I know—and I mean only, as there are hundreds of films—is because Aaron handed me a bag of coffee.
The blend? "Douchebag."
How appropriate. I know the term well having been called it on SSC at least once before.
This is exactly why I love Cinequest.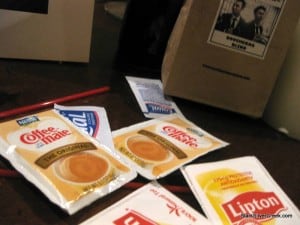 Here's an independent filmmaker using guerilla marketing techniques (and we're no stranger to that around these parts) to get attention.
As director Jeffrey Goodman once told me, "the fish don't jump in the boat." So, you got to get out there and make it happen. Otherwise the world may never see, let alone know about, your work.
It was an impromptu circumstance.
We were watching Halfdan Hussey introduce a parade of filmmakers at Il Fornaio, each with but a brief moment to tell us about their film. Darnisha of the amazing Team Cinequest introduced me to Aaron. Later, he chased me down in a sea of people to hand me a screener, a business card and this odd bag of coffee.
Or was it coffee?
I showed it to Loni, and we both agreed that it was darn (sure—freakin') cool indie film marketing in action. The bonus: it's from a Vancouver filmmaker. Loni and I love Vancouver, and know it pretty well, at least downtown areas such as Yaletown, Gastown and Robston Street.
From one Canadian to another: well done. Never stop hustling.
Cinequest, gotta love it. Go Aaron!