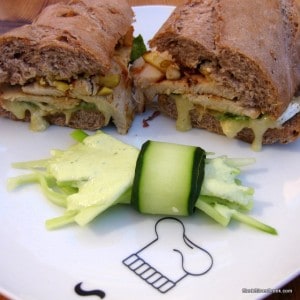 Cafe de Lolita has quickly become the go-to place for fresh sandwiches and salads in Loreto. And no wonder, the bread is made fresh on location every morning, as are the pastries. Located off the Malecon, tucked in just behind Islas, you'll find a wonderful, bright outdoor courtyard full of happy customers. Most everyone that owns a home in Loreto Bay or is a regular visitor to the area has probably eaten here by now, but if you haven't it's worth seeking out. (Check out some great posts on the cafe: Breakfast, Lunch and Dinner in Loreto, Baja California Sur by Jane Lurie, and An Exciting New Café In Loreto by Deborah Scanlon).
Co-owner Paco, who takes care of service, coffee and sandwiches, says "It's all about having a very good sandwich here in Loreto."
His partner and wife, Paola, whips up all sorts of sinful desserts. As seen in this episode of Loreto Live TV, they are hedonistic creations. So much so that home owners flock to the cafe to get first dibs for parties, and get-togethers.
One clever touch are the menus which are recycled wood from a fence that was torn down in the back to expand the patio. Also, we learn why the cafe is named Lolita, and the relevance of the name to the Loreto community.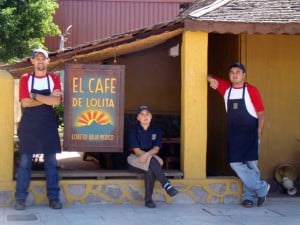 The astute may notice that Loni's outfit changes. We don't usually bring a change of clothes when we dine, and neither did we on this visit. Instead, there was just so much to eat, to experience at the cafe we dropped in on two successive days. Once for lunch, and then for breakfast. So it's all merged into one clip to confuse your culinary senses.
The only question that remains: will Loni have a special dessert square named after her? Perhaps Artes, who has a sandwich bearing his name, can give Loni a pointer or two. Maybe.
Our thanks to Paco and Paulo who were so gracious and welcoming, as they are to all their guests that drop in for a delicious meal.