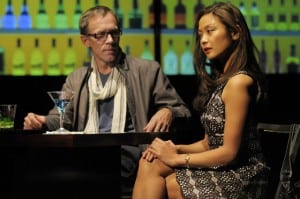 What strange devices? And what distant West? Or is it East? Find out as we go on location to the Berkeley Rep where a good time—if mysterious—is always had.
The play Concerning Strange Devices from the West is a world premiere now playing at the Rep. Created by playwright Naomi Iizuka, it creatively explores the impact the camera (aka freeze frame, several of them) had on 1800s Japan as well as the present time.
Artistic director Tony Taccone writes, "Marshalling the full force of her considerable intellect and imagination, Naomi leads us into the heart of mystery behind every photograph. We travel to 19th-century Japan, where photographers are exploiting the desire of Victorian Westerners to purchase photographs of exotic geishas, as if by doing so their own lives become more exotic. From there we move to modern-day Tokyo, where the same photographs reveal a host of secrets and relationships that raise much larger questions: What is real? What do we imagine as real? What do we need to be real?"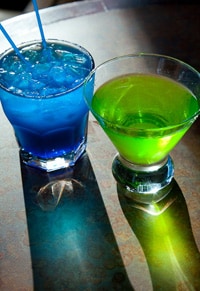 Of course, as always, Berkeley Rep adds spice to opening night. It seems every time Loni finds herself trying on costumes, and unwittingly stirring things up. Innocent, I oblige. Action!
Also, kudos again to the Rep for putting on another superb after-party with catered food, wine. The energy was extra high, thanks to the drizzle outside; it meant for a lot of mingling and close quarters. After a great performance of Strange Devices a pseudo-sexual meets uber-tech vibe hung in the air. Then again, maybe that was just me.
Thanks again to Terene Keane for another brilliant cameo. And off the cuff too! Also, thanks to wigmaster Mariah who Loni interviews spur of the moment while in line for coffee and a chocolate chip cookie (not for me).
Homage Alert. This time it's a shout out to Cinequest Film Fesival 20. Pay close attention to the video and you may even spot a filmmaking reference to Life in One Day, a Dutch film and one of our favorites of the festival which closed last weekend. Oh, the things we do.
Review: Concerning Strange Devices from the Distant West, Berkeley Rep.