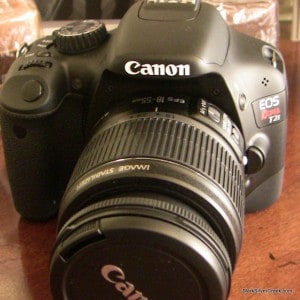 Trying to find a T2i in stock? Try B&H Photo, $899.
The new Canon T2i DSLR camera finally arrived, after searching high and low to find one in stock. It's my first SLR of any kind since as a kid my Dad (and grandfather, Bossie!) introduced me to the world of photography, allowing me to occasionally—and ever so gently—use their Canon TL, and Canon AE-1 cameras. It was an unforgettable thrill to this day.
Being a crazed gadget and tech fan, it opened up all kinds of possibilities for tinkering: aperture, ISO, shutter speed, focal length. Photography it seemed was all about jargon, with a decent amount of math thrown in for good measure.
There's a few things that made the decision for the T2i (550D) almost a no-brainer.
It's a new model, and benefits from trickle down tech from the more expensive ones. And speaking of price, for under $1,000 it's a bargain relative to the competition and is expected to, at least according to some articles I've read on enthusiast sites, turn the DSLR market on its ear in 2010.
Also, being a Canon means using an adapter I can also use all the old, but high quality, lenses still in our family's tech archives.

Then there's video. With native 1080p, 24 frames-per-second capability, the T2i can produce film-like, cinematic video. At least in theory.
This rookie will need plenty of practice to come close to what I've seen on Vimeo – impressive what others have done with it. Cull Hoback, director of Friction and an eccentrically fun personality whom we met (and interviewed) at Cinequest, raves about it, telling me on Facebook that it can outperform a $100,000 HD Varicam from just a few years back.
So I've been testing out the T2i, and here are some initial thoughts. More photos are below. I know I'm not going to win any awards, that's for sure. And I could probably use a refresh on ISO, aperture and shutter speed, not to mention basic composition shots. Oh man, the things I do to make Loni look good!
Build quality is excellent; although the T2i uses plastics (unlike some of the higher priced models with metals) it feels solid, like a BMW
Shooting video: I can't tell how much time is left on SD card… might be an option, need to fiddle more
The built in mic is only mono, so to do serious audio need a shotgun mic (we have Rode) and/or external
Also, there are no audio levels to monitor incoming audio!
Minor issue for shooting video, compared to a Vixia HF 100: the LCD display is fixed, and can't be tilted which can be limiting at times
Transcend 16GB class 6 card works, no issues; recording 1080p is at 48Mbps so be ready for large file sizes
For workflow, Premiere Pro doesn't work smoothly with the .mov files (they stutter, whereas AVCHD play smoothly); this requires conversion using something like Neo Scene from Cineform; I tested it and it works well
Although the T2i, like a lot of modern day DSLRs, is button and switch city, the ergonomics are fabulous; each button seems to have it's own texture or slight variation in layout or design; everything again feels just right, and tactile feedback is perfect too
You can tell from looking at my first shots that I'm not going to be getting into something like the 2011 Loreto calendar anytime soon. But we do look forward to using it for some of the Stark Insidervideos to see if it can be used as an all-in-one: for both HD video, plus high quality stills.
If you see all sorts of wacky, over-wrought photos and videos on Stark Insider in the coming weeks and months, you can blame me and my full-circle journey back to the world of photography, thanks to a new little Rebel.