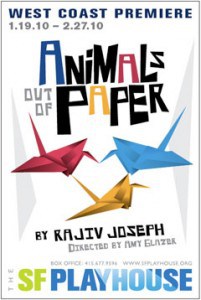 After seeing Animals Out of Paper (review), a play about an origami protege and the relationships among three fascinating characters, we wondered how such a clever, intriguing story came to be. Fortunately, playwright Rajiv Joseph was on hand to join the cast for a talkback at SF Playhouse. This was definitely one of the better ones, with a packed house taking in all sorts of interesting information about origami and the culture of "folding."
We learn how Rajiv came up with the original idea which he talks about in this video. Plus, learn how the principles of origami are used in everyday applications where creases or folding are involved, such as an air bag in a car, for example.
As he says, although origami is the common denominator, the play is really about relationships, and how things in life can become complicated, despite the best of intentions.
Also, you may not realize it, but several of the pieces hanging on set are actually works of art contributed by actual origamists. Visually striking!
Thanks to Rajiv for spending a few minutes with us and the Flip. Also to his friend Jim for helping out Loni in the video with a name (yes, those darn names, so many of them!) and then introducing us to Rajiv. It really capped off a memorable night of theater at SF Playhouse.