Do you believe in destiny? In Oedipus el Rey, now playing at Magic Theatre, Oedipus tempts the Gods in an effort to alter fate and rule the land. Sophocles' ancient tale has been re-imaged with grand results (review). The buzz is strong on this one, and every single review I've read has been glowing.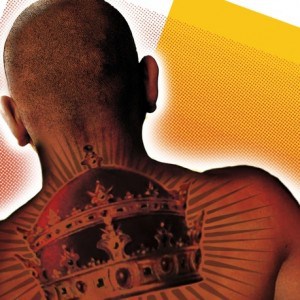 This version has been successfully modernized without feeling forced, a common pitfall when trying to recast a classic.
Prison inmates, Highway 99, the Golden Gate Bridge and the City of Angels provide an intriguing backdrop to the drama that unfolds as Oedipus battles fate.
Follow us on location as we head up Highway 101 guided by trusty Moto Droid and tempting the traffic Gods themselves, to reach Fort Mason in San Francisco in time for the show. Loni takes you inside the theatre where you can see a striking wall mural by artists Victoria Grace Canby and Theo Knox, foreshadowing the epic journey about to follow.
Pay close attention and you may even discover if the tattoos on the actors are real.