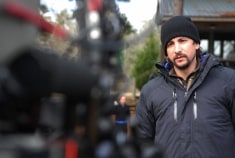 The 20th anniversary of the Cinequest Film Festival kicks off next week in San Jose. Co-founder Halfdan Hussey said, despite the challenging economy, the festival should draw in excess of 80,000 fans, filmmakers, actors, and industry trade to downtown San Jose. Some estimates have indicated the impact could well be over $5 million.
Then, of course, there are the films themselves. Reviews of screeners here on StarkSilverCreek suggest we're in for a compelling, emotional, and memorable ride. More on that in upcoming articles.
The focus today: a look at the independent filmmaking process.
What does it take to bring a film from concept through to completion, on a small—or even non-existent—budget?
Jeffrey Goodman, director of Cinequest favorite The Last Lullaby, is a guy that knows. For less than $5 million he completed a high quality, well-regarded indie flick (review) with name-brand talent in leads Tom Sizemore and Sasha Alexander. Perhaps even more impressive is his ability and willingness to share everything he's learned with anyone who will listen—or read his Blog posts or Facebook Fan page. The good, and the bad. The successes, and the mistakes.
For anyone who's met Jeffrey, you know he's the kind of guy to root for. You want to see him make it big, and cheer along the way. For those interested he's started his next project and you can read about that here.
So when we had the change to sit down with Jeffrey, we jumped on it. We ended up producing three segments from our discussion at the local Camera cinema downtown San Jose, just prior to a screening of Lullaby.
When I look back on these videos, I realize there is a lot of interesting, valuable information for filmmakers both new and old. I highly recommend anyone curious about what happens before a film gets made, and then some of the challenges that arise after, watch these videos closely.
One thing I learned is selling is a big part of it. Yes, creativity is central. So is talent. Vision. All great stuff, but never underestimate the importance of selling. Selling the script. Selling the idea. Selling the actors to sign on. Selling festivals to screen it. Selling fans to buy the DVD. Selling the film to distributors… the list goes on.
As Jeffrey once said, recalling sage advice, "The fish never did jump in the boat."
Some of the topics covered in our discussions:
How Jeffrey became a filmmaker
Influence of the French, Tarantino
The writer/director concept
Bringing The Last Lullaby to the big screen
The perseverance and passion needed to make it happen
The 3 most important things a filmmaker initially needs
Financing a film and the art of the pitch
Business planning
Casting process
Tom Sizemore: landing a name brand actor – does he need to audition?
Film Noire and Crime Drama
Quentin Tarantino and the pinnacle of Ironic Noire
Hollywood today and Jeffrey's approach to film-making
Social media, and the new sales, marketing and distribution models