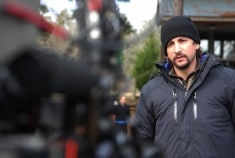 This morning film director Jeffrey Goodman announced that his next project Peril is underway. He explains it will be funded and shot in Louisiana much like The Last Lullaby. Likely it will mean he'll pool together a fund with investments averaging about $50,000. It's welcome news that many will be eager to hear. Goodman has built a large, loyal fan base using social media tools. On Facebook, he has over 1,500 fans and on Twitter 721 follow him for the latest about his projects, film making techniques, and critical business and creative decisions.
Those interested in independent film can learn all aspects of film making by following Jeffrey's informative and passionate blog posts where he writes about everything from funding and casting, to shooting and distribution. Best of all, he talks openly about what works and what doesn't; even minor (but important) promotional marketing tactics like working city screenings to gain maximum visibility for a film, and ensuring email addresses are captured for future communications. Last year he ran promotions and contests using Facebook.
You can find no better model for Film Director 2.0 than Jeffrey Goodman. He's giving independent film a fresh face and maximizing his efforts thanks to social media; direct engagement with customers, a living-breathing exchange of ideas, comments and free flow of information.
In tech, he'd be king of open source. In the world of film, he's an inspiring demonstration of an increasingly forgotten art: less is more. Less explosions. Less non-stop-violence. Instead, in The Last Lullaby, he builds a character-driven study; the story unfolds naturally at a pace that lets us savor every moment on screen (and some fine acting by Tom Sizemore). There is violence, and shoot-outs. But they punctuate rather than dull the proceedings.
About Peril, Goodman says, "The film is a new installment in the "young boy in peril" genre. It's about Milo, an eleven-year-old boy, who will be our guide as he searches for safety and a place to call home."
And it looks like social media will continue to play an important role in the journey:
"I'm starting fan pages and updates much sooner this time around, allowing people to participate in the entire process, from start to finish. I will share pages from the script, casting decisions, storyboards, early location pictures, productions stills, and clips from the movie as we begin to assemble them."