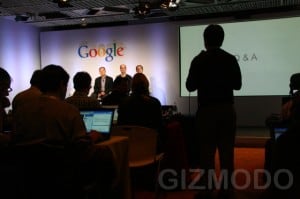 As if the world needs yet one more piece on the new Google Nexus One phone.
Well, instead of writing my opinion, or talking up specs, let me try a different approach for today's bit: I'll snip and clip sound bites from around the Web and let you draw your own conclusions. Sort of like a written documentary of what was.
After all, this was supposed to be a mega-game-changing-shake-up-the-industry-type announcement.
But was it?
PC World:
A Google phone was supposed to be revolutionary. And, while the Nexus One is a good phone — a really, really good phone — it's not revolutionary.
Google Inc. (NASDAQ: GOOG) today unveiled a new way for consumers to purchase an Android mobile phone, a web store hosted by Google. The company is also launching the first phone offered through this new model, called the Nexus One, which combines the latest in hardware from HTC Corporation with the newest Android software. – Google press release, Jan 5
Of course, if Google's goal is to spread Android more wide than deep, maybe this is precisely the right phone at the right time: class-leading processor, vibrant display, sexy shell, and just a sprinkling of geekiness that only Google could pull off this effortlessly.
"If I was a Droid customer who just bought the phone a month ago, I might not feel so good," Google "made it clear that not all Android phones are created equal." Michael Gartenberg, an analyst at Interpret.
Wall Street Journal:
Google's Nexus One Is Bold New Face in Super-Smart Phones
"It looks like a really cool phone," said Charles Golvin, an analyst with Forrester Research. "But it is not a game changer."
Google shares dropped a bit less than three dollars about the same time the press conference began. Granted, that's not a giant move with a stock trading above $620. Google is down 0.4% on the day. Apple is losing altitude too, but still in positive territory for the day at 0.2%.
While the Nexus One may be a rival to the iPhone, Google and Apple are approaching the cellphone market with very different strategies: Apple makes money by selling phones and Google makes money by selling ads. But there is little doubt that the two companies are on a collision course.
"Simply put, Google is now competing with the very people who license and support Android," said Peter Misek of Canaccord Adams.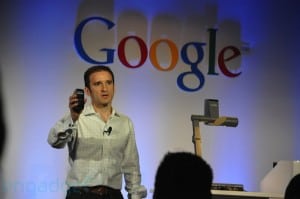 Newsweek:
Forget Microsoft vs. Google. This Decade, It's an Apple-Google Slugfest.
It's our way to raise the bar on what's possible when it comes to creating the best mobile experience for consumers," said Andy Rubin, VP of Engineering.
A new survey of over 4,000 consumers from ChangeWave shows that Android OS is gaining on its smartphone rivals, fast.
"We do not view Google's new device as a near-term threat to the iPhone 3GS as: 1) the price tag of the Nexus One does not seem aggressive enough to entice potential iPhone buyers; 2) Apple's AppStore, which has over 115K applications and over 3 [billion] cumulative downloads to date, remains far ahead of competing app platforms; and 3) internationally, Nexus One's availability seems limited at this point, with the unlocked version only available in three countries and Vodafone's UK subsidy not starting for a few months." – Goldman Sachs
Bloomerberg.com:
If Nexus One is any indication, Google is off to a great start.