We've been working our way through the catalog of Cinequest DVD releases leading up to the 20th anniversary for the festival in February 2010. And one of the thrills of watching indie films like this terrific gem, Batad, is that you can really feel every ounce of passion that went into making the film.
Such was the case with the  last two films we watched as well, the entertainingly quirky Swiss Beresina or The Last Days of Switzerland and the pseudo-documentary about celebrity stalking Fandom.
That the quality of Cinequest distributed and screened films is so high is testament to the festival's ability to attract first rate film industry talent, plus its increasing profile, now regarded as one of the top 10 festivals in the world.
Batad is another example of thoughtful film-making. Set in the rice terraces of the Philippines—designated a UNESCO World Heritage site—it tells the story of a boy who lusts for a pair of trekking boots.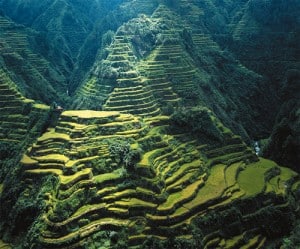 It would make hikes across the hillsides to the farmer's market easier, plus it would give him a certain cool factor that might help get the attention of the local girls.
His father, however, sees his son following in his footsteps, tending to the rice fields, continuing a family tradition centuries old. Soon, we realize the trekking boots symbolize technology or at least a way to the city. But do they belong in this rural village?
A few things make this film special.
First, the lush visuals. The camera pans across striking views of the rice terraces, referred to by Filipinos as the "Eighth Wonder of the World." You can feel a sense of history—not to mention pain-staking labor and the pride of the Ifugao people.
The acting is natural. At times it could be a documentary. Plenty of light moments, though, give many scenes heart; such as when the boy dresses in native costume so that he can charge tourists for photographs.
Perhaps best of all is the relaxed pace. This is not a movie about explosions, special effects and chase sequences. Instead, director Benji Garcia patiently lets the story unfold, without resorting to fast cuts. Consequently, the emotion, the pride, and value of family traditions are magnified.
One of my favorite scenes comes later in the film. The father sits next to his son overlooking the rice terraces. He realizes that his son has city dreams, and while he is a traditionalist, above all else he loves his son.
Batad won Best Screenplay at the Cinemalaya Philippine Independent Film Festival and Best Actor for Alcris Galura's portrayal of the boy.
Batad
A Cinequest Release
4.5 out of 5 stars
Directed by Benji Garcia