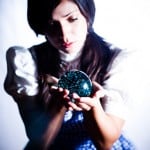 Through-and-through, fantastic!
Yet again I'm impressed with the quality of family entertainment Berkeley Playhouse offers its lucky theater goers. A packed house of kids and parents on Sunday relished in the magic, singing, dancing of this updated version of the venerable The Wizard of Oz.
It is first class family entertainment of the finest form. Just about every detail works, including some clever updates to the original script that give the proceedings a fresh pop.
After seeing the stellar Peter Pan earlier this year (review, 5 out of 5 stars, a Starkie!), I wondered if the Playhouse could keep the momentum going into the '09/10 season. Some concerns lingered. After all, this is a classic. Tampering with the land of Oz can lead to technicolor hangovers.
But, it works—often magnificently. And you don't need me to tell you that; the packed house of children who sat attentively throughout, expressions of delight and wonder, is proof the entertainment quotient is high.
The Julia Morgan Center, the new home for the Playhouse, provides the perfect venue: large, airy, with wood beams and decent, if a little low, sight lines. A simple stage, awash in blues and circular patterns belies the theatrical magic that ensues.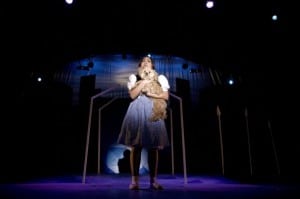 The production team should be commended, once again, for squeezing every ounce of creative possibility out of the staging. The lighting. The sound. The costumes. It all works.
Natalie Amaya plays the eternally youthful Dorothy Gale. She gives the role wide-eyed innocence, astonishment and, when needed, a dash of Kansas-style sass. Her voice is smooth, and suits the songs perfectly—never straining.
The other equity actor, Rob Seitelman as the Cowardly Lion, anchors the trio of iconic pals who accompany Dorothy along the yellow brick road on a fantastical journey to the Emerald City. He huffs and puffs; suffers a few panic attacks along the way, and even channels his inner Elvis with a rockabilly-inspired rendition of "If I Only Had the Nerve." No doubt he was a favorite with this matinee crowd.
The rest of the cast is also strong, and they look like they are having an absolute blast. It translates into energy and joy that truly makes what we're watching special.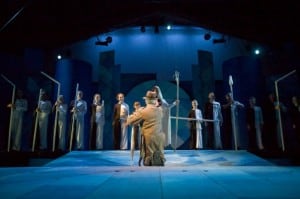 Anna Ishida also impresses, playing 5 characters with ease and panache. Her Wicked Witch of the West is a scene stealer. But she does so by smartly crafting her own style instead of copying the version so famously played by Margaret Hamilton in the 1939 film. She's less shrill, more shrewd. This is one example of some of the clever script adjustments and re-imaging that work so well. You could see Meryl Streep playing this role, Devil Wears Prada set in a castle. In one scene she's exasperated at the captain of her flying monkey squadron who is over-worked. She laments, waving her broom in frustration.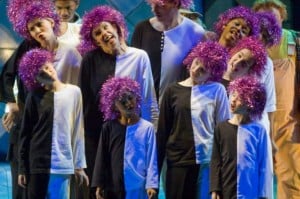 Later, her soldiers further grate on her nerves with the incessant "Yo-ee-oh, yo-oo-oh" during the Winkie marching song. Why, she wonders, is that necessary, and, "What does that song even mean?!" It's wonderful satire; just enough to entertain the adults who will smile at the references. And yet the production stays true to the spirit of the original material.
All the classic songs are here, with slight updates. Organs. James Brown. Elvis. Even 1970s-style, a la psychedelic Hair inspire. Their ghosts all reverberate.
There are many more surprises, delights. I'd rather not spoil them here.
Instead, I highly recommend you take your children, your nieces, your nephews, your neighbors, your friends, your grandparents, your parents out to see this classy, first rate, astonishingly good production of The Wizard of Oz. Family entertainment doesn't get any better than this.
The Wizard of Oz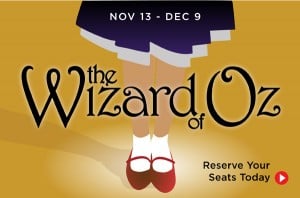 Berkeley Playhouse, Julia Morgan Center for Arts
Directed by Jon Tracy
Musical Direction by Phil Gorman
To December 6, 2009
$28 adults, $25 seniors, $19 children under 1

Noteworthy

Glowing orbs used on stage by the actors to depict snow, ice, fire, and crystal balls are available for sale at intermission for $10 – they're a smash hit with the kids and a great way to engage them as part of the show.
Maggie Mitchell, as Toto, delivers a stoic performance. After the show, many could be heard asking, "Where did Toto get trained, he was so cute… and obedient!"
Even though the original film was released in 1939 it had many impressive special effects for the time including a flying house caught in the eye of a tornado; in absence of these types of on-stage effects, the Playhouse team came up with an inventive and highly effective alternative.
I may revise my list of traditional Christmas productions to include The Wizard of Oz. I only have two on this short, prized list: It's a Wonderful Life! ("Bedford Falls!") and The Nutcracker (my Mom took me as a child every year); so now I nominate The Wizard of Oz as a perfect, seasonal tradition.
Berkeley Playhouse was founder in 2007 by Artistic Director, Elizabeth McKoy.