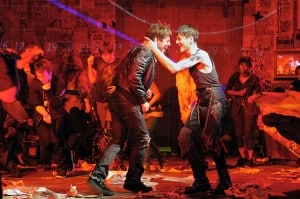 Not exactly fall off your chair news, everyone has seen this coming for many, many months. Maybe even most of 2009. It has to be the most talked about on- or off-Broadway show of 2009. That, of course, would be American Idiot (review and on location video), the musical based on the mega-successful Green Day album of the same name.
The show played to packed, energetic houses and quickly became the center of a media frenzy. Tickets were hard to come by. Fan Web sites sprouted up. Green Day soaked it in, making several appearances at the Berkeley Rep to mingle with fans, and attending many of the shows.
Yesterday in New York, a casting call was issued causing Blogs everywhere to light up with speculation that the show would indeed be hitting Broadway soon.
Not word yet on timing, but some suggest it could be later this season (early 2010) which would make it eligible for this year's Tony Awards.
The production is the pride of the Berkeley and the East Bay Area. Green Day (originally known as Sweet Children) band members Billy Joe Armstrong, Tré Cool, and Mike Dirnt themselves grew up in the area, and spent many early years playing to crowded bars and theaters in Oakland and Berkeley.
Michael Mayer, who directed the ground breaking, also mega-successful Spring Awakening (seen recently at Broadway San Jose, review, interviews), believed American Idiot to be just ripe for a rock opera-style musical, calling the album "a masterpiece…an opera, ready to be staged."
And, boy, was he right. The show was extended multiple times, and grabbed headlines across the country. Reviews were somewhat mixed; many critics were polarized. Regardless, the producer's could not have timed it better. It was the right venue, the right band, the right time.
Now, off to those Eastern suburbs called Broadway.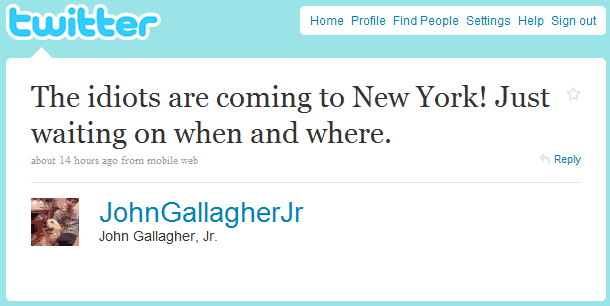 A Rock Opera Timeline

The Who — A Quick One While He's Away (1966), Tommy (1969), and Quadrophenia (1973)
David Bowie —The Rise and Fall of Ziggy Stardust and the Spiders from Mars (1970)
Meatloaf —Bat Out of Hell (1977)
The Rocky Horror Picture Show motion picture soundtrack (1975)
Andre Lloyd Webber & Tim Rice — Jesus Christ Superstar (1970)